BMG OFFICIAL SLADE PAGES
BMG Slade Facebook | BMG Slade Insta | BMG Slade Store |
BMG Slade Twitter | BMG Slade Youtube
The BMG reissue programme
'Remastered!!!'
It's always been a red hot topic among Slade fans for some years that the first CD issues of the Slade albums were a golden opportunity wasted. The CD album track listings exactly replicated those of the vinyl albums and many great Slade songs that were b-sides from the periods in which the original vinyl albums were released remained unavailable on CD. There was never a legitimate b-sides collection to round these up, though one was often called for by fans. Slade fans (who must be the last people on the Earth to own, retain and regularly use actual record players) grumbled on forums and at conventions and continued to wear out their precious vinyl copies.
As is usual with groups of Slade's stature, fans put together and circulated their own compilations of tracks that were still unavailable on CD. Crackles and pops from 30 year old vinyl singles distracted just about everyone who ever listened to these CD's. If only a record company had ever had the foresight to do it properly....
In mid 2006, the sudden announcement that Slade's entire back catalogue was to be remastered and reissued was greeted cautiously by Slade fans. Much heated debate about what may come to pass ensued. Noddy Holder and Jim Lea had never ever deviated from preserving their back catalogue just as it was originally intended. The news that Tim Turan, who did an astonishingly good piece of work on the recent Status Quo remasters, was in charge of the remastering process was a shot in the arm to fans and some indication that good things may actually happen.....

www.slayed.co.uk is extremely pleased to have been involved with Union Square in the production stages of some of these releases and to be able to review the Slade CD and DVD reissues.
Beginnings / Play it loud - Live anthology - Slayed? - Sladest - Old new borrowed & blue - Flame - Flame DVD
Nobody's fools - Whatever happened to Slade - We'll bring the house down - Til deaf do us part
The amazing kamikaze syndrome - Rogues gallery - You boyz make big noize - The Slade B-sides - The Slade box
Crackers - Collection 79 - 87 - Rockers - 'Slade live at the BBC' - Slade Alive! vinyl limited edition reissue
When Slade rocked the world (vinyl collectors box set) - Slade Alive! Deluxe Edition (Vinyl and CD editions, 2017)
Feel The Noize - The Slade Singlez box set - Cum On Feel the Hitz (2020) - Splatter vinyl LPs (2021)
Ballzy Record Store Day LP (2022) - Mediapack CD reissues (2022) - All The World Is A Stage (5CD box, 2022)
Crackers Splatter Vinyl LP and Expanded CD (2022) - Sladest Splatter Vinyl LP and Expanded CD (2022-3)
Merry Xmas Everybody 12" splatter EP (2022)
---

'Beginnings' and 'Play it loud'
1 Genesis
2 Everybody's Next One
3 Knocking Nails Into My House
4 Roach Daddy
5 Ain't Got No Heart
6 Pity The Mother
7 Mad Dog Cole
8 Fly Me High
9 If This World Were Mine
10 Martha My Dear
11 Born to Be Wild (Live)
12 Journey To The Centre Of Your Mind
13 Raven
14 See Us Here
15 Dapple Rose
16 Could I
17 One Way Hotel
18 The Shape of Things to Come
19 Know Who You Are
20 I Remember
21 Pouk Hill
22 Angelina
23 Dirty Joker
24 Sweet Box
25 Wild Winds Are Blowing
26 Get Down and Get With It
The album (two albums plus bonus tracks on one CD) is attractively packaged in a glossy slipcase featuring both original album covers on the front. Inside is the CD with a 12 page booklet (like the others reviewed on this site) featuring many unseen Gered Mankowitz portaits of the group from the period, along with a good number of contemporary singles sleeves. The informative sleeve notes covering the Slade story at this point are written by Dave Ling, who is no stranger to Slade.

Comments from the band members cheerfully recount what was going on at the time. The CD label features the portrait photo from the rear of the 'Beginnings' album.
'Beginnings':
1969
Listening to this, the first in the series of the reissues, the difference in sound quality from the Polydor remaster (performed by Jim Lea) is quite noticeable. The sound on the opening song 'Genesis' is certainly very 'live' by comparison. An 'A/B comparison' between this disc and the Polydor version show a marked improvement to the overall sound.... something I wouldn't have believed possible, given the age of the master tapes and the possibility of not being able to actually remix the sound. It's louder and cleaner. The difference is immediately noticeable.
The best way to hear a recording is always at a decent volume through the huge studio speakers when the track has just been mixed. Tim Turan has done a miraculous job in upgrading the end result, so that you get closer to that unique experience.
'Knocking Nails Into My House' just sounds ferocious - a young band with brilliant players let loose in a studio, having a great time and letting rip. The treble is sharpened, giving Noddy Holder's impossibly powerful voice that extra edge and Jim's plummy-sounding Gibson EB3 bass throbs away wonderfully, clear as a bell. Dave's guitar and Don's drums have far more attack than we've heard before. Their version is very faithful to the quite rare and scarcely-heard original by Jeff Lynne's band, The Idle Race.

'Pity the mother' now sounds like the listener is in the room with the band. 'Mad dog Cole' just thumps its way out of the speakers, in a way it hasn't before. The album now sounds far more like a SLADE album, bursting with energy. Tim Turan must have had fun re-mastering this one. 'If this world were mine' - a really soulful moment for Ambrose Slade, is cleaned up significantly and the subtlety and quality of the band's playing comes through loud and clear.
A cleaner, clearer recording always makes for a more lively sound and the remaining tracks sound quite sprightly and less 'dated' than they normally would on an album recorded in 1969. A special mention has to be made of how Don's snare drum on 'Martha My Dear' cracks away like never before.

John Peel reviewed Beginnings for the 'SuperSlade' magazine in 1974:
"Stand by" they said, "for a new group that'll really blow your mind. No kidding;' they said, "These boys are different. Wait till you hear them" they said, "then you'll know what it really means to flip" Thus spake Peter Jones in the first paragraph of his sleeve-note to a 1969 LP called "Beginnings" by Ambrose Slade. As informed folk all over the galaxy are aware, Ambrose Slade eventually became Slade, and "Beginnings" (released on Fontana STL 5492) must now be some sort of a collector's item. Certainly I had never seen or heard the album before and I had to go to the BBC's record library for the copy I did hear. "Beginnings" is a remarkable LP - not so much for the music that is on it but rather for the pointers which indicate not only what Slade have done since, but directions they may take in the future.

The opening track is "Genesis" which, together with "Roach Daddy" was released as a single (Fontana TF 1015). "Genesis" starts with an electronic whine and wind noises and evolves into a fairly moody instrumental, featuring a bevy of electronic effects but displaying at once that Slade were, even at this early date, better than average on their chosen instruments. "Genesis" is followed by "Everybody's Next One", one of two Steppenwolf songs on the LP. The other is the classic "Born To Be Wild;' which was later re-recorded for the "Slade Alive" album. On both of these there are strong indications of the Slade to come. Noddy's voice was already taking on the strong identity it has now - and this was recorded at a time when lead singers tended toward blandness and anonymity. The third track on Side 1 is "Knocking Nails Into My House" and this, a song written by Jeff Lynne who was then with Idle Race but now leads The Electric Light Orchestra, shows the band's Midland origins. The song and Ambrose Slade's treatment of it show the strong influence The Move had on popular music all through the region. There's some particularly fine guitar from Dave Hill here and the sound of nails being knocked in, Noddy yells "Look out" and the music is submerged beneath the uproar of the collapsing house. "Roach Daddy;' which follows, has a walking beat and a vaguely country-ish feel to it.
The vocals are a bit hesitant and this has to be one of the least satisfying tracks on "Beginnings" Ambrose Slade next turn their attention to "Ain't Got No Heart", a nifty wee piece written by the curious Frank Zappa, leader of the Mothers of Invention. Zappa numbers are never easy things to play, involving numerous musical changes and vocal stylings which are often odd, to say the least. The embryo Slade acquit themselves well here and by this stage of the LP the impression is growing that the band and producer Roger Wake are anxious to prove that this is a group with the ability to work successfully on a wide range of material. "Pity The Mother;' which ends Side 1, heightens this suspicion. A Holder/Lea composition, it features more excellent guitar work and a basinful of tricky drumming from Don Powell.

Side 2 opens with a number more representative of Slade as they are today. It's called "Mad Dog Cole;' all four members of the band took up their pencils to write it, and it's a solid rocker. There's an interesting section in which someone sings falsetto along with the lead guitar, following Dave's fast playing note for note. Not an easy thing to do and for this reason, and for Jimmy Lea's crunching bass playing, this is, for me, the best and the most interesting track on the LP. Ambrose Slade ring the changes yet again for the next track, which is another song written and performed by a major Midlands band, the Moody Blues. It's Justin Hayward's "Fly Me High" and the main interest here comes from the band's flexibility, their skill and from the fact that, briefly, Noddy sounds like Rod Stewart. Marvin Gaye's "If This World Were Mine" follows but it is not a success.

The sleeve-note to "Beginnings" claims that Ambrose Slade give Lennon/McCartney's "Martha My Dear;' which comes after "If This World Were Mine;' "a somewhat astonishing new treatment" Despite featuring Jimmy Lea at the controls of his violin, the band stick fairly closely to the Beatles' original. "Born To Be Wild" is next, Noddy giving the lyrics, written by the extraordinarily named Mars Bonfire, a fair old going over. The quartet sound at their happiest on rockers and they end with another highlight, "Journey To The Centre Of Your Mind" This was originally performed by the American Amboy Dukes -at this period (1969) personal favourites of mine - and the Ambrose Slade version of "Journey" is no less hairy than the original.
"Beginnings" is an extraordinary LP - I wish I didn't have to return this copy to the BBC -because it shows so clearly all those features that were to lead, several years later, to the string of huge successes that Slade have to their credit. I'm slightly embarrassed that so-called experts like myself failed to notice the signs."
'Play it loud':
1970

'Play it loud' was the first album that was recorded as Slade and the first recorded with Chas Chadler at the helm. The production values were much improved on those at the stage of the 'Beginnings album' and the remastering enhances the good work that had gone before. All the tracks sound louder, crisper and cleaner. Drums and percussion come through far more positively than before. You can pick out Don keeping time by clicking sticks together. I hadn't ever noticed that since I picked the original vinyl album up. Handclaps 'crack' rather than 'slap'. cool.

The intricacy of the band's playing is again far more audible. The loud bits are loud, the quiet bits are quieter. Everything seems to have 'more room to breathe'. It's just better than I've heard it before.
The two bonus tracks, 'Wild winds are blowing' and 'Get down and get with it' round off the first in the set of reissues and 'Get down and get with it' in particular leaps out of the speakers and grabs you by the ears and thumps them hard. Hype? No.
I was amazed by what Tim Turan has done to the first album, but nothing on the CD benefits more than this particular track. I have never been that keen on the studio (single) version as it was lacking in comparison to the live version. There is so much energy and presence to the remastered version that I am just astonished.
---
Disc 1 - Slade Alive:
1. Hear me Calling
2. In Like A Shot From My Gun
3. Darling Be Home Soon
4. Know Who You Are
5. Keep On Rocking
6. Get Down And Get With It
7. Born To Be Wild
and Slade Alive Vol. II:
8. Get On Up
9. Take Me Bak `Ome
10. My Baby Left Me
11. Be
12. Mama Weer All Crazee Now
13. Burning In The Heat Of Love
14. Everyday
15. Gudbuy T'Jane
16. One Eyed Jacks With Moustaches
17. Cum On Feel The Noize
Disc 2 - Slade On Stage:
1. Rock And Roll Preacher
2. When I'm Dancin' I Ain't Fightin'
3. Take Me Bak' `Ome
4. Everyday
5. Lock Up Your Daughters
6. We'll Bring The House Down
7. A Night To Remember
8. Gudbuy T'Jane
9. Mama Weer All Crazee Now
10. You'll Never Walk Alone
Alive At Reading '80 / Xmas Earbender EP's:
11. When I'm Dancin' I Ain't Fightin'
12. Born To Be Wild
13. Something Else / Pistol Packin' Mama / Keep A Rollin'
14. Merry Xmas Everybody
15. Okey Cokey [studio track]
16. Get Down And Get With It
The immediate thing that struck me when opening the packaging on this doublepack was that some care had gone into making it a very attractive package to tempt those buyers who may not have all (or any) of Slade's live material. The main artwork emphasis is naturally on the biggest-selling of Slade's live efforts, Slade Alive!

The original album artwork for Slade Alive Volume Two, The Reading EP and Slade On Stage is reproduced on the fragile wrap-around strip that helps keep the package closed and also in minature just inside the booklet. This is a great way to get just about all the live music Slade released in one place.
The booklet itself contains a series of anecdotes from the band about their live career - the most telling being those grumpily aloof (and totally correct) comments made by Jim Lea about their last minute appearance at 1980's Reading festival, where, after being obliged to traipse through the mud from the public car park, carrying their guitars and stage clothes, refusing to move aside for the Rolls Royces of more recent and lesser stars who had written less hits then Noddy Holder and Jim Lea, even when you added them all together.
Enough of the mud, what about the music?
Disc One:

There is little doubt that many of Slade's longest-serving fans believe Slade Alive! (1972) to be Slade's finest hour. It is certainly a totally superb illustration of the very cornerstone of their career - their live act. Slade Alive! has more atmosphere than most live albums that have been recorded since its release.
'Hear me calling' remained Slade's live show opener for a great many years and that is being despite it being written by Alvin Lee for Ten Years After. Here it is in all its glory, revealing Slade's uniquely powerful live sound and Jim Lea's playful illogical basslines under the solos. It is followed the the best song Slade ever played live, but never committed to a studio version; 'In like a shot from my gun'. That would have made a superb single, but Slade Alive only gave up one single - and that was a few hundred copies only of a promotional 7" release of 'Hear me calling' that most Slade fans have never even held a copy of.
'Darling be home soon' is another interesting choice for a live album - another cover - this time from the Lovin' Spoonful. The subtlety and melodicism of the band (except for when Nod burps) is astonishing as they power through this quiet little song. Restraint. You can feel the energy being kept in as the band do all but explode towards the end of the song.
'Know who you are' disappeared from Slade's live show soon after the Slade Alive! period, to be replaced by newer material that the group had just written. A pity, because here the song chugs along like a runaway train, the bass going subtlely and deliberately out of rhythm with the guitars under parts of the verses, giving that extra bit of drive and thickening up the sound in a way that made Slade unique. Dave Hill's lead guitar parts remain a joy to hear.
'Keep on rockin' remained a staple in various rearranged formats throughout their live career and it always worked brilliantly. Lashings of Chuck Berry and Little Richard with no pretension whatsoever. Fantastic.
The live version of 'Get down and get with it' (until the latest remaster came along) always rendered the studio version redundant. It is a truly brilliant performance by a band at one of its many live peaks. The closer, 'Born to be wild' is that most rare of things, a live version of a rock classic, where the group covering the song make it their own.
'Slade Alive Volume Two' (1978) captured the band live at a couple of shows from the 1977 and 1978 'Whatever happened to Slade' period tours and first and foremost, the remastered version noticeably corrects a number of mastering errors from the previous CD issue. The guitars sound savage by comparison too. Nod's voice is loud and clear. His rhythm guitar is thick and muscular. Jim's bass throbs and grinds and Dave's guitar sounds just wicked. Don Powell's drums pummel away, and with your eyes shut and with your head firmly wedged between two speakers set to 'stun', it's a bit like being there on the night.
It's great to hear good clear live versions of songs like the sadly under-rated 'Be' and 'One eyed Jacks with moustaches' as well as what sounds like the most heartfelt rendition of 'Everyday' they ever released.
Disc two:
'Slade on stage' (1982) sounds crisp, sharp and tight. 'Rock and roll preacher' immediately sets the energy level for the whole set with Dave Hill's guitar coming across far more clearly than before. The guitars and bass are mixed far more to the fore on this CD, which when the band were playing unison riffs (like on 'Take me bak 'ome') goes to show how well-drilled a machine the band was.
Jim Lea gets an extraordinary bass solo and violin solo spot during the Rainbow-esque 'A night to remember'. How this man is not regarded as one of the bass playing greats, I will never figure out. I've never heard anyone but John Entwistle do anything that compared.
A number of old favourites that Slade played on the tour captured here lose none of their vitality, as the band were truly giving every song their all. 'Gudbuy T'Jane' always sounded like a new song when Slade played it.
The Reading EP's:
The 'Merry Xmas Everybody' that appears on disc two is the crowd singalong from the 1980 Reading Festival, not the 'Live and kicking' version. But that doesn't matter when it's surrounded by goodies like 'Somethin' else' and 'Get down and get with it'. The inclusion of Slade's STUDIO version of the 'Okey Cokey' on a live EP was a bit of a strange thing for them to do at the time, as it had absolutely no right whatsoever to be on a live EP, but it fitted in with the overall party mood of the Reading EP's, so here it is once again.
---
2. The Whole World's Goin' Crazee
4. I Won't Let It 'Appen Agen
6. Gudbuy T'Jane (UK No. 2)
8. Mama Weer All Crazee Now (UK No. 1)
10. Let The Good Times Roll / Feel So Fine
15. Slade talk to 'Melanie' readers
Let's be straight about this, 'Slayed?' is most people's personal favourite Slade album. This CD had to be RIGHT.
For me, Chas Chandler was at his production peak on this album and on the two following two studio sets (Old New Borrowed and Blue and the Flame soundtrack). The sound had a depth and warmth that Slade would never recapture again - an 'in the room' BIG sound that the 'Slade Alive!' album helped shape. Their albums had to sound something like that one.

Whoever originally engineered these albums understood exactly how to put microphones on amplifiers and the drum kit. In addition, Chas knew exactly how to set up a great mix. The group were at an early height of their inventiveness and the studio performance on 'Slayed?' has always reflected this.
On listening to the remastered CD and comparing to the previous issue, the disc is again quite a lot louder and clearer. There's a good warmth to the sound, as hoped. The treble bites, whereas before it didn't.The bass depth isn't noticeably increased, as the album was quite bassy enough anyway, but combined with the increased treble, the overall sound is far more punchy and again, the separation is tremendous.
Tracks like 'The whole world's goin' crazee' benefit greatly from this enhacement, as slightly subdued intros are now more immediate. The guitar intro on 'Look at last nite' has an ocatve-up guitar part on the last progression and at last it's quite clear. It's not that much of an exaggeration to say that some sounds on the classic tracks are being heard properly for the first time.
My favourite Slade cover was always 'Move over' and Jim's bass features prominently throughout. The bass sound benefits from a more 'fruity' (that's what they used to call it back then) and rounded sound. Don's snare cracks away nicely and his cymbals wash quite effectively, without everything else being obscured. Again, it's like being in the room with the band.
Sandwiched between the two big hits from the album is the slow, grinding 'Gudbuy gudbuy'. on this edition, the bass throbs away quite purposefully and the good work of whoever is wielding the shaker fits in nicely. Nod's voice cuts through the instruments like a knife through butter, crystal clear.
'I don' mind' sounds like the band are in the room with the listener. Listen for Don's timekeeping with clicked drumsticks. Nod's voice really does the business on this song and hearing the way he sang here (subtly double-tracked in parts), it's a wonder his voice lasted for all the years that it did.
Let the good times roll's bass and drum passages sound sweet and clear. Nod's voice again just sits in the middle of all that's going on, clear as a bell.
As for the five bonus tracks added on the remaster...

'My life is natural'
I'm used to hearing this with the crackle from the vinyl and it's not there. It's great to hear this song sounding much more like it would have done in the studio, when it was just mixed. The acoustic guitar comes over nicely.
'Candidate'
Always a slightly murky production, this is now much cleaner and the guitars are emphasised by some very effective separation. Again, it sounds a little strange to hear a totally clean version without the crackle that generally stopped me getting out the vinyl copies!!! I guess I'll get used to it.
'Wonderin' Y'
Nice to hear this sounding so clean, clear and with such a lovely warm room sound. The backing vocal harmonies come across very well. No wonder this obscure little song is such a favourite among Slade fans.
'Man who speeks evil'
Out come the maracas again. This track sounds like it has really benefitted from Tim Turan's remastering. The guitar parts absolutely shine and the bass is inventive and it's far easier to make out the lyrics at last. The short guitar freak out at the end of the song shows how good Dave Hill was, even back then.

'Slade talk to Melanie Readers'
A nice addition to finish off the disc is this interview disc. It seems to be taken from the cleanest copy of the flexi disc that was available. This will be an especially nice touch for those people who had the disc back in 1972 and would be tempted to buy this album again, so many years later.
---
1 Cum On Feel The Noize
2 Look Wot You Dun
3 Gudbuy T Jane
4 One Way Hotel
5 Skweeze Me, Pleeze Me
6 Pouk Hill
7 The Shape Of Things To Come
8 Take Me Bak Ome
9 Coz I Luv You
10 Wild Winds Are Blowin
11 Know Who You Are
12 Get Down And Get With It (Get Down With It)
13 Look At Last Nite
14 Mama Weer All Crazee Now
15 Hear Me Calling (previously unreleased studio version)
16 My Friend Stan
17 My Town
18 Kill em At The Hot Club Tonite
One of the later releases by Salvo, Sladest is a superb snapshot of the first half of the band's golden period. Not everything on the album is a single, nor were all their early singles huge hits. The album filled a gap for most collectors of Slade records at the time, by including some of their Fontana period single tracks (also on Play it Loud) and some choice album tracks. At the time, fans of the band warmly welcomed this release for the rarer material and played it just as much as their regular albums, even though it was the first compilation Slade ever released.

Bolstered now by a set of bonus tracks that rounds up 1973 and early 1974 nicely, plus a previously unheard studio version of 'Hear me calling' (for which we must acknowledge the tremendous efforts of Chris Selby in tracking down), that really makes the set just as thrilling as it was back then. Tim Turan again turns his hand to making the audio sound as big and impressive as you could ever dream of it being.

The album comes in a tri-fold sleeve, reproducing the booklet from the original album cover and adding an informative essay by Cnris Ingham.

The tracklisting of Sladest on its own says more about the quality of the music than any mere review ever could: Cum on feel the noize, Look wot you dun, Gudbuy T'Jane, One way hotel, Skweeze me pleeze me, Pouk Hill, The shape of things to come, Take me bak 'ome, Coz I luv you, Wild winds are blowin', Know who you are, Get down and get with it, Look at last nite, Mama weer all crazee now. Bonus tracks: Hear me calling (previously unheard studio version), My friend Stan, My town, Kill 'em at the hot club tonite.
---
Old New Borrowed and Blue
1974
Old New Borrowed and Blue
2. When The Lights Are Out
4. Find Yourself A Rainbow
6. We're Really Gonna Raise The Roof
10. My Friend Stan (UK No. 2)
13. I'm Mee I'm Now And That's Orl
14. Kill 'Em At The Hot Club Tonite
15. The Bangin' Man (UK No. 3)
16. She Did It To Me
17. Slade Talk To "19" Readers
Slade's sound was seemingly very clearly defined by the time their Old New Borrowed and Blue album hit the record shops. So it would come as no surprise to those watching the group most closely at the time that they would start to diversify and avoid being labelled as predictable on this album which, with hindsight, gives a very clear indication of the coming maturity of their later meisterwerk, 'Flame'.
Another tremendous cover version, Just a little bit (originally by The Undertakers) starts the album in good style and once again, everything is louder and clearer. Don's hihat, which propels much of the song, hisses brilliantly and Nod delivers one of his best vocals over marvelous unison guitar and bass.

This album has always sounded great, so Tim Turan has done a special job to tweeze the sound that bit further. The quieter parts of the first song are great to hear. Another great 'room sound'. The chiming guitars of 'When the lights are out' ring loud and clear, compared to the muddier version previously on CD.
The album's real oddity is 'Find yourself a rainbow'. A bit of a novelty track, but thanks to Tommy Burton, we have a real Slade vaudeville pub singalong. The piano sounds beautiful on this edition and it's a shame Tommy Burton isn't around to hear this.
Miles out to sea' sounds crisp, clear and simply bounces along irresistibly - whatever it's about! Previously obscured piano makes its way into the mix under some of the verses.
The real power rockers on this album have always been 'We're really gonna raise the roof' and 'Do we still do it?' It's hard to say much about these two songs except that they now sound just that bit better. Giving Nod's voice a bit more edge on one of his most shredded vocals is perhaps a dangerous thing to do. Jim will hopefully be pleased with the bass sound on 'Do we still do it'.
'How can it be' sounds (on the quieter parts) like the band are sat around the listener - one of Chas Chandlers great skills. The backing vocals are enhanced on the verses and the guitars are much clearer.
I skipped 'Don't blame me' as I wasn't prepared for the utter onslaught of Nod's voice at this time!!!
The crisp hi-hat driving 'My friend Stan' counterpoints fabulously with Jim's offbeat bass, which sounds spot on. This is possibly one of Jim's best ever bass parts, even if the song is plain daft and another of their novelty songs. Even when Slade got a little bit 'throwaway' lyrically, they always sounded musically like a top class band.
'Everyday' remains the lovely song it always has been and remains one of Slade's best ever sounding songs. the guitar (and bass especially) sound a little more aggressive. Not a bad thing. The fuzzed-out guitars of 'Good time gals' sit over newly clear drums.
The bonus tracks:
'I'm Mee I'm Now And That's Orl' - even when cleaned up, still sounds menacing and angry. The drums on this edition really do benefit from the Turan treatment.
'Kill 'em at the hot club tonite' remains delightful and it's a joy to hear a pristine version of this whimsical little song again at last.
'The bangin' man' has been added here and it fits in just right. The track seems to have an added presence.
'She did it to me' makes a welcome appearance. This should have been on the original album. Pristine. If I had to single out anything improved on here, again it's the drums and the general clarity of the track. One of Nod's better vocals, too.

To complete the disc, we have the scarce 'Slade talk to 19 readers' flexidisc, where Slade plug the album and Nod makes feeble jokes. Brilliant!
---
1How Does It Feel
2 Them Kinda Monkeys Can't Swing
3 So Far so Good
4 Summer Song (Wishing You Were Here)
5 OK Yesterday Was Yesterday
6 Far Far Away
7 This Girl
8 Lay It Down
9 Heaven Knows
10 Standin' On The Corner

Bonus track on 2022 BMG CD:
1 How Does It Feel (USA 7" Edit)
Considered by the majority of Slade fans to be their most accomplished release, Flame was the soundtrack to their film of the same name. The film was later considered by Dave Hill to be a bit of a mistake, as it went a long way to confusing their fans as to the actual relationships within the band - some of the fans thought that Slade were the same band as the utterly fractured and constantly arguing Flame. Perhaps it was because the band were actually far more convincing actors than they have ever really been given due credit for that this unfortunate state of play came about. Whatever....
The re-release of this album by the Salvo label sees the album presented with its original tracklisting intact.
As the album is regarded by many, including the band to be the band's supreme recorded achievement, it hasn't been tinkered with. Why alter something that's perfect? The releases immediately after this are contained on the Nobody's fools re-issue.
The much hoped for alternative version of 'This girl' - which would have been a competely valid addition to the disc - appears not to exist any longer,as it was only ever used for the short 'Undertakers' live segment in the film and was not retained after the film sound edits were completed and there are no alternative versions of other songs and no b-sides that didn't come from the soundtrack anyway to add to the track listing. It is doubtful that the performances by the sadly departed Alan Lake would need to be added to the soundtrack, as whatever else he was, he was not that fabulous a singer!
The repackaging:

As with the earlier releases in this series, the Flame album comes in an attractive card slipcase and has a rather good booklet which features stills from the film and a couple of shots of Chas and the boys on location and at the film premiere. The liner notes are by Chris Ingham - a jazz pianist who has previously written about The Beatles and Frank Sinatra. Fans may not agree with everything he writes in his batch of Slade album liner notes, but differences of opinion make things interesting and keep the world going round!

The initial issue of the Flame DVD came in a single case cover (featuring Dave Hill second left in the cover photo) and featured a lengthy interview with Noddy Holder in the extras. Available here.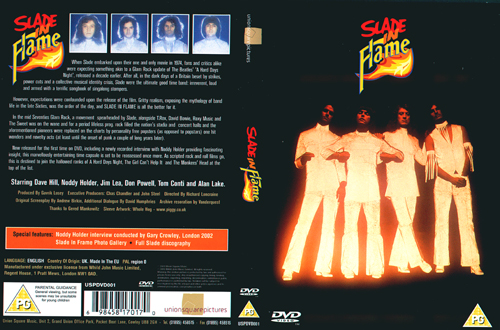 A collectors edition DVD also including the film soundtrack release is also available. This edition came in a card slipcase and a foldout cover (with Dave Hill to end right in the main photo). The extras in this edition included interviews with all of the band individually as well as key people from the film. Available here.


A double-pack DVD and CD that comes in a CD sized case, with booklet is also available here.
To the music...
The much loved 'How does it feel?' starts the album in grand style. Jim Lea wrote this melody years before Slade ever took off. It's a good job he didn't forget it, as once coupled with Nod's thoughtful and emotive lyrics it as become many fans favourite Slade song. Much is made of the single's 'failure' to go higher than number 15 in the charts. 'How does it feel' remains an evergreen Slade anthem and lest we forget, the singles sales were undoubtedly hampered by the release of the soundtrack album - containing the very same recording - at the same time.

The re-mastering here highlights what an excellent recording this was in the first place. The bottom end is emphasised throughout the whole CD; vocals, drums and guitars also sound clearer and punchier.
'Them kinda monkeys can't swing', which comes up next, has Slade being typically Slade - momentarily forgetting their remit of being a group by the name of Flame. As a Slade song, it's quite enjoyable an a good solid rocker - and the group are seen cheerfully ripping it up in the film, with Nod frantically miming H's slide guitar part.

'So far so good' was a single for Flame (but not for Slade). It would have been interesting had Slade had the idea of releasing the Flame material as 'Flame'!!
'Summer song (wishing you were here)' sees Slade at their most 'Beatle-y' - with 'Help' type backing vocals and an instantly memorable melody. One of Slade's best ever performances on record. The lyrics capture exactly what Nod is trying to get across. The song would have fit perfectly on an earlier Beatles album, something to be quite proud of. The booklet's contention that the song is similarly thematic to 'Merry Christmas Everybody' is 'stark bilge' (to quote Jim Lea). This reviewer is sure that Slade were 'not writing songs by numbers' at this point. An interesting idea, though.
'OK yesterday was yesterday' was seen as an opening song at the main Flame concert in the film. A powerful and quite typical Slade rocker, with lyrics seemingly pointing to Flame's earlier struggles as a pub and club band being behind them.
Noddy Holder's own favourite Slade song 'Far far away' follows. It's difficult to think of anything new to say about this song - everything has already been said, except to say that it probably sums up Slade's entire working life on the road for Nod. He's seen the world, been there and done it all - seen Elvis' gaff, the sights, the lot - got the t-shirt, taken it home and lost another on the road somewhere else! All the time being homesick for Wolvehampton. I doubt there is anyone to be found with more than half a brain and working ears who could possibly dislike this song. It's got one of Slade's most enduring melodies and a restrained vocal and a largely acoustic performance on rhythm guitar alongside a brilliant arrangement of the other guitars and bass sets a lovely mellow mood.
'This girl' is the most adventurous peformance on the album. Jim's clavinet and Dave's astonishing guitar parts work excellently against a rare appearance of brass instruments on a Slade track. Nod's vocal is drenched in echo to great effect, just as it is on the following 'Lay it down' where Jim basically plays a very subtle excellent bass solo throughout most of the song. Nod's vocal refers to Dave's astonishing vibrato technique (which comes from his playing guitar right handed, despite being left handed, giving him extra strength and dexterity in his left hand). The brass is carefully arranged so as to be inobtrusive as possible in this song.
'Heaven knows' is another plain 'Beatles type' song. Dave Hill's guitar parts rescue this from total obscurity, to be honest - not one of Slade's finest moments, apart from a good chorus.
'Standin' on the corner' is the perfect amalgam of the alter-ego group Flame and Slade themselves. The most obviously American sounding track on the album - a clear indication (with the gift of hindsight) of what Nobody's fools would be like. The highpoints of this song are Nod's vocal on the choruses and Dave's excellent guitar solo. Brass stabs dominate and punctuate between the verses and underline the choruses - were they really necessary? A sax solo? Why not ? Slade would try anything once at this time. They were being Flame, not Slade - an excuse to stretch out and develop. A remaster with the brass removed would be this reviewer's dream! But this really IS sublime, I have to admit!
The music still stands up beautifully after all this time - the album was recorded in 1974, lest we forget. Whether it is Slade's crowning achievement is up to all of the individual listeners that hear it.There is no right amswer. Some will prefer the heavier and far more complex 'Whatever happened to Slade' - some will prefer Slayed? Whatever... Comparing the album to much of its contemporary releases, it stands head and shoulders above the competition.
The album is arguably part 'Not Slade' and part 'Very Slade' - all at the same time. This no doubt contributes to it's lasting appeal, but also to what happened to Slade folowing ts release...... A paradox and a dilemma for the band and the fans. Slade had laid back somewhat from being the power-rock band that had pummelled the world's earholes into total submission with 'Slayed?' and 'Slade Alive!' Melody and careful, intellgent, even mature arrangements came to the fore - as this WAS a film soundtrack album, after all.
From here on, they would never be the same band again, for better or for worse...
---
1 Nobody's Fool
2 Do The Dirty
3 Let's Call It Quits
4 Pack Up Your Troubles
5 In For A Penny
6 Get On Up
7 L.A. Jinx
8 Did Ya Mama Ever Tell Ya
9 Scratch My Back
10 I'm A Talker
11 All The World Is A Stage
Bonus tracks:
12 Thanks for the Memory (Wham Bam Thank You Mam)
13 Raining in My Champagne
14 Can You Just Imagine
15 When the Chips Are Down
This album is mainly known as Slade's "American album". It was recorded during Slade's self-imposed exile from the UK during 1975 and 1976. To say that the album is an attempt to create a sound that US radio programmers would warm to is an understatement. It is difficult to review the album separately from a basic narrative of where they were at in their career at the time.
Previously, Slade had had limited success in the USA and their small following was gained via word of mouth following live shows (often supporting clearly inferior acts that they wouldn't have dreamed of having on three acts below them on a bill in the UK).

Being hailed previously as 'The New British Beatles' has served to get their prospective audiences backs up and, to be honest, did them very few favours at all with radio and concert promoters. The band had decided, along with Chas Chandler, that an all-out assault on the only market that they hadn't conquered so far was the only way forward. They had done a series of short US tours previously, but going home to tour at the point where their US presence was beginning to make a difference didn't make sense to them. They felt the UK was safe territory and that they could afford a 'year out'. . Whether or not that was correct is debatable.
The group have spoken many times since of the fact that they were 'going stale'. Whatever the actual truth of the matter, the whole 'Nobody's fools' album displays a huge desire to radically change the band's image, direction and its sound to suit the American ear. The band certainly achieved that objective and the results covered a wide spectrum of styles and gave Slade a new lease of life, if not the chart placings that the album deserved.
The title track, 'Nobody's fool' features a strident piano intro from Jim Lea (edited on the 45 release) and double tracked guitars from Dave throughout. The beat is a little more disco-fied than usual for Slade and the presence of a girl backing singer lets you know this is a quite different Slade to that we previously knew and loved. Tasha Thomas, the session singer, even appears in the promo clip for the song. The single was released to coincide with their 10th anniversary celebrations and, without a supporting tour, failed to set the charts alight. This single release suffered sales-wise from having both sides being on the album.
'Do the dirty' is slightly 'spaced out' funk rock. Nicely and tightly arranged, but with largely meaningless lyrics, the band were pandering to the stoned audiences thay had seen on their tours.

'Let's call it quits' showed that the band were very much intent on absorbing their influences from what was happening around them in the US. In the case of 'Quits', they ended up settling out of court with Allen Toussaints publishers due to a marked similarity to his song 'Brickyard blues'. Despite some very unsubtle innuendoes, the song did respectably well in the UK charts, supported by a striking video. If Slade ever showed any signs of being stale, it's on this weary effort.

'Pack up your troubles' is a whole different story. The band again sound like they are enjoying themselves. Paul Prestotino's Dobro guitar adds some very nice slide touches and the acoustically driven song chugs along very nicely with a good-time feeling to it.
'In for a penny' was another single, written in predominantly minor keys and without a chorus. The guitar break that Dave Hill plays on this song has to be one of his finest ever. Harmonium and jazzy sounding bass, plus melodic trademark Slade backing vocals make this an almost irrisistable, if slightly gloomy, record. It charted respectably in the UK, mainly because people were still in the habit of buying Slade records and also because they appeared on UK TV to support it.

'Get on up' showed that the band hadn't forgotten at all who they were and what made them great. This took it's place in Slade's live set for a number of years to come. The backing vocals are a definite nod in the direction of the soul style vocals that you would hear on the radio over there (check out David Bowie's 'Young Americans' for a comparison). Again the girls voices (again, Tasha Thomas multi-tracked) enhance the song, rather than detracting from it. One of the album's great successes and practically the only song to survive for any length of time in the Slade live show.

'LA Jinx' deals with problems that the band encountered whenever they played in Los Angeles. The guitars on this are excellent. It doesn't sound at all like the Slade we knew up to this point until the chorus kicks in. If the object of the exercise was to show how different they could be, they were succeeding.
'Did ya mama ever tell ya?' is neat slice of what Nod referred to later as 'Wolverhampton reggae'. The band go all bluebeat on us and Tasha Thomas adds neat backing vocals throughout. A pleasant enough effort. It possibly didn't make sense to UK fans at the time, but it wasn't specifically meant to.
'Scratch my back' is soaked in innuendo and is a restrained rocker, with Nod in fine voice. Dave's guitar style is economical, while Nod's remains simple and solid. Jim's bass playing on the whole record is also simplified from his usual style in an attempt to reach out to US radio.
'I'm a talker' is as far from Slade as it is possible to get - drug and alcohol references abound - this is a party song after all. Only Dave's agile double-tracked guitars remind you that this is Slade. It sounds much more like Noddy Holder guesting on someone else's record.
The final song on the original release; 'All the world is a stage' is many fans favourite on the album. This song was initially barely recognisable as being by Slade, as it was mainly keyboard driven. Nod's voice reminds you of exactly who you are listening to. The lyrics are loosely based on odd quotes from Shakespeare and the comments in the booklet accompanying this CD try to make out that the song is 'pretentious'..... well, make your own mind up! Nod bows out , thanking the audience for being wonderful before some familiar sound effects kick in.
Bonus tracks:

'Thanks for the memory' was released shortly after the 'Flame' movie was released and was the single at the time of the 'Flame' tour, just before the band went over to the USA. If it couldn't go on the Flame CD, then it does really belong here. Slade go all instrumentally complex, get some rude lyrics banned and write one of their finest choruses ever. A long song and a great listen. John Bonham of Led Zeppelin was said to be extremely impressed by Don's playing on this song. The remastering reveals an extra piano part that seems to have been somewhat submerged in the mix previously.
The b-side to that single was 'Raining in my Champagne'. It features Nod in excellent voice. The band basically reprise 'Twist and shout' to great effect. They sound like they are enjoying themselves and drop in a hint of The Banana Boat song for good measure.
'Can you just imagine' (the b-side of 'In for a penny') is all about the making of the Slade film 'Flame' and spiritually belongs on that album, even though it was written some time after the film was finished!! A nice tight track, with good lyrics and again a few good Dave Hill guitar parts. Nice to hear a pristine copy again.
'When the chips are down' is another reasonably obscure b-side (to 'Let's call it quits'). The band must have been fond of this song, as they used different lyrics when the song became the theme song for a BBC radio Insight special ('Six days on the road'). They have obviously jammed their way through this song to get a nice loose feel before the song breaks down into a quiet section towards the end, ended by one of Don Powell's most forceful drum rolls before Nod's voice incites further anarchy. The re-mastering certainly helps this song come across as powerfully as it does.
---
Whatever Happened To Slade
1977
1 Be
2 Lightning Never Strikes Twice
3 Gypsy Roadhog
4 Dogs Of Vengeance
5 When Fantasy Calls
6 One Eyed Jacks With Moustaches
7 Big Apple Blues
8 Dead Men Tell No Tales
9 She's Got The Lot
10 It Ain't Love But It Ain't Bad
11 The Soul, The Roll And The Motion
Bonus tracks:
12 Forest Full of Needles
13 Burning in the Heat of Love
14 Ready Steady Kids
15 My Baby Left Me: That's Alright
16 O.H.M.S.
17 Give Us A Goal
18 Daddio
19 Rock 'N' Roll Bolero
20 It's Alright Buy Me
The 'Whatever happened to Slade' album dates from the beginning of Slade's so-called 'wilderness years' on the Barn label, recorded at Portland Studios in London, which was owned by Chas Chandler, with investment from the group. Slade had returned from a long self-imposed exile concentrating on the American market and had a serious amount of rebuilding to do, career-wise.

Slade had been replaced in the charts by newer and younger pop heroes and the transient section of their teenage fan base had moved onto 'the next big thing', leaving them with just their hard core fans (not the majority of their previous customers) desperate to hear their next release.Their previous album, 'Nobody's fools' had shown Slade's formidable ability to diversify, but 'Whatever happened to Slade' (note the deliberate lack of a question mark - this album tells you in no uncertain terms EXACTLY what happened to Slade) saw them concentrate on a solid, deliberate return towards the type of hard rock that they had played best.

Slade made a most deliberate and serious about-turn from their comfort zone of 'easy on the ear', catchy rock songs in order to re-invent themselves as being more of a 'rock' than 'pop' group. The playing on the songs is disciplined riff-based stuff and the subject matter is not all typical or immediate Slade fare. Tracks like the astonishing 'Be', 'Lightning never strikes twice' and 'It ain't love but it ain't bad' show Slade's unerring ability to play hard rock at it's best. The American influence lingered on and is most obvious on 'Big Apple blues', and 'Dead men tell no tales'. One of their very best stage rockers, 'One eyed jacks with moustaches' (think playing 'cards') comes from this album and is a complete joy to hear it again, especially when it's cranked up a bit. 'Nobody's fools' sounds totally lightweight by comparison.

The packaging for the album states the album is 'the connoisseurs choice as the best Slade album of them all'. While this is certainly an arguable statement, this album was extremely well-received by fans at the time, and it has certainly been fondly regarded by the majority ever since. Slade were determinedly forging ahead with smashing a number of people's perceptions of what they were all about musically. They stubbornly ignored the current music trends (they were SLADE, after all) and remained a totally insular, solid four-man unit. This was the last Slade album with production to be credited to Chas Chandler. It was also their first for years not to chart in the UK. It had no particular intention of bowing to commericiality.

The reissued CD contains the most generous selection of bonus tracks so far in the excellent Salvo reissue series and basically rounds up the first half of Slade's mostly under-rated 'Barn Years' output. The single A-sides, 'My Baby left me', 'Give Us A Goal', 'Burning In The Heat Of Love' and 'Rock 'N' Roll Bolero' - as well as the largely excellent accompanying B-sides (that evaded release on any album of the time). Why some of these - especially 'It's alright buy me' - didn't get put out as A-sides still baffles many fans. The CD booklet contains mainly unseen out-takes from the photo sessions for the album. The sound is once again a great improvement on the previous Polydor issue (copies of which should now be gathered up and put in a skip and burned). Slade fans who are already aware of this album will be overjoyed to hear it again, sounding like it does.... and the 9 bonus tracks make it a compulsory purchase for all Slade fans.
---
We'll Bring The House Down
1981
1. We'll Bring The House Down
2. Night Starvation
3. Wheels Ain't Coming Down
4. Hold On To Your Hats
5. When I'm Dancing I Ain't Fightin'
6. Dizzy Mama
7. Nuts Bolts And Screws
8. My Baby's Got It
9. Lemme Love Into Ya
10. I'm A Rocker
11. Chakeeta
12. Don't Waste Your Time (Back Seat Star)
13. Sign Of The Times
14. I'm Mad
15. Ginny, Ginny

Bonus Tracks
16. Not Tonight Josephine
17. Okey Cokey
18. 9 To 5
Never was a truer sentence spoken!
With the release of 'Return to base', Slade were diversifying again. Their music became less complicated than on the previous release (Whatever happened to Slade). Acoustic guitars appeared again and some of the music was far more poppy than fans were used to. Songs like 'Chakeeta', 'Lemme love into ya' and 'My baby's got it' showed a quite new approach from the group. The song 'I'm mad' was a real highlight of the album, with its Beatlesque hooks.
Slade had never gone right down the 'country' road before and so, 'Don't waste your time (back seat star)' was a complete surprise to most. 'Sign of the times' was designed to be particularly radio friendly, with more mentions of radio dropped into three minutes than most commercial songwriters manage to fit on an album. 'When I'm dancin' I ain't fightin' was a particularly chirpy little rocker that, along with 'Wheels ain't coming down' further brightened up stage shows at the time and showed that Slade still had some good songs left in them. A cover of Chuck Berry's obscure 'I'm a rocker' (a particular favourite of Noddy Holder) also brightens things up, as Slade's version totally outstrips all the best points of the original. 'Nuts bolts and screws' is a nonsense word game set to energetic hard rock and it works nicely.

Special mention should be made of 'Dizzy mama' - which became their stage show opening song for a couple of years. It's one of the highliughts of the second half of their career.
Slade's problem at the time was that they were effectively dead in the water and were struggling to find their identity after punk rock had come along and handed many of their contemporaries their P45's. True, they could respectably pack out shows in colleges and clubs, but these people weren't all being sensible and going out and buying their records - which were often hard to find in shops, even if they tried. 'Return to base' went into the bargain bins and so the vinyl album commands a quite respectable price today from dealers. A 12" 6 track EP ('Six of the best') selling at £1.49 sold feebly, despite having some really good songs on it, like '9-5'. Their single version of 'The Okey Cokey' died a death. It could have been the end of Slade.
The story of Chas Chandler being obliged to knock on Dave Hill's front door, to struggle to convince him to appear one last time with the all-but-disbanded Slade is often told. The group's last minute booking for an appearance at the 1980 Reading Festival - after Ozzy Osbourne pulled out - saved the band from dying out quietly after a last gig in some provincial club without even telling anyone. Fans had to wait until 1991 for that.
Reading made Slade popular again and they went out on the road, revitalised by their resurgence. An EP from the Reading show did quite well in the charts, but they needed to strike again quickly with an album, while they were still hot. Writing, rehearsing and recording a new set of material would have taken months, and so the band were forced to compromise somewhat and compiled the best rockers from their most recent Barn and Six Of The Best label recordings onto a new album, along with their current hit - which gave the album its title - 'We'll bring the house down'. The b-side of that single ('Hold onto you hats') is also included here.
The new album (originally on their own Cheapskate label, distributed by RCA, who they were actually in negotiations with at the time for a new record deal) also did very well for Slade and helped to re-establish them as a chart act again for a couple of years. The greatest irony of their renewed success is that they weren't doing anything at all any differently in the bigger halls than they were in the clubs and universities. They remained resolutely SLADE.

Pure dumb luck rescued this excellent group from the bargain bins.
The CD reissue boasts improved sound quality, excellent packaging and adds in a couple of tracks not to be found on Slade albums elsewhere from the time. One is the excellent 'Not tonight Josephine', which they probably thought of as a quickly tossed-off B-side, but which was as good, if not better than anything they had released in recent years. It also includes Slade's inexplicable reimagination of the Okey Cokey. Jim Lea begged Noddy Holder to not record the song and was told if he didn't show at the studio, Nod would record the bass part. The CD booklet tells the story of this period - where they were at their deepest despair with their career and then suddenly and deservedly raised to a new height of popularity again more fully.
---
1. Rock And Roll Preacher (Hallelujah I'm On Fire)
2. Lock Up Your Daughters
3. Till Deaf Do Us Part
4. Ruby Red
5. She Brings Out The Devil In Me
6. A Night To Remember
7. M'hat M'coat
8. It's Your Body Not Your Mind
9. The Rock Roll Out Of Control
10. That Was No Lady That Was My Wife
11. Knuckle Sandwich Nancy
12. Till Deaf Resurrected

Bonus Track
13. Funk Punk And Junk
Following their triumph at Reading and a creditable appearance at the Monsters Of Rock festival at Castle Donington in 1981, Slade were now riding on the crest / tail of a wave at this point in their career. They sort of trailed along with the bands who were classified in the press as The New Wave Of British Heavy Metal. They weren't actually that kind of band, but it was what was selling, so for the sake of survival, they adapted their music and their look to fit in with the scene.
In going back to making more straightforward rock music, the band actually reverted somewhat towards the feel of their earlier Slayed? album, except this album does not have the same warm 'in-the-room' sound of their earlier classic. Jim Lea was aiming for more of a radio-friendly, thinner sound, which to a point worked for them.
Stage favourite 'Rock And Roll Preacher (Hallelujah I'm On Fire)' starts proceedings. Certainly catchy enough to be issued as a single in Europe, this deservedly became their stage opener on their remaining tours.

The general mood of this album is typified by the punchy second single 'Lock up your daughters'. This song owes a debt to the original version of 'Fool for your lovin' by Whitesnake, who Slade toured with at the time. A really good single that hit the charts in the UK and Europe.
The band retained their pop sensibility with good, melodic, rocky songs like 'Til deaf do us part', which had lyrics and a tune and style that were obviously tailored 'made-to-measure' to their new audience and the much better 'Ruby Red' which went for delievering a great song with a well known and familiar solid, driving rock sound. This was the third song to be taken off as a single from the album. It later came to light that Ruby Red had been recorded before, but the earlier version did not make the cut for the previous album that it was meant for.

To be honest, Slade didn't really let up on this album, even on slightly slower songs like the slightly-laboured and pandering 'She Brings Out The Devil In Me'. Dave Hill plays some truly excellent lead guitar on this track.

With its organ sound and Blackmore-style riffage, 'A night to remember' is very reminiscent of classic Deep Purple and was made to be sold to the 'metal' audience. In the middle of the song, the instrumentation breaks down to a snatch of a harmony guitar riff neatly 'borrowed' from 'Waiting for the bus' by Slade's old tour-mates ZZ Top.

Dave Hill's instrumental 'M'hat M'coat' which is a nice doff of the cap to 'House of the rising sun', gives the listener a short break from the bombast and is a tasteful slow piece that showcases Hill's distinctive vibrato style. It's nice to hear the rest of the group playing such a good supporting role on this tune, which featured prominently in Slade's live show at the time.
'It's your body, not your mind' echoes Rainbow at their most cheerfully chauvinistic and bombastic. Not to mention impressive. Despite the not so vague sexism of the lyrics, it's all done so tongue in cheek that no-one could really object!

'Let the rock roll out of control' is basically a word game set to a really good tune, Slightly lazy writing, but listening to Slade was never going to get you anywhere near a degree in music.
'That was no lady, that was my wife' - was a phrase borrowed from Groucho Marx - a rather nifty little tune, played with some attitude and and an overdriven bass, prompting Jim to slip in a quick solo. This song never made it to the stage, which is a bit of a shame.
'Knuckle Sandwich Nancy' - The true story of Nod's beating at a Porthcawl nightclub at the hands of the later-jailed bouncer Desmond Brothers is a mash up of about six great tunes into one rather unfortunate high-speed lumpen rant. It has hooks galore, but sounds like it was rushed during recording and if it had been simpler, would have made for a great tune. It was released as a single on the band's own Cheapskate label, a while before the album came out, at Holder's insistence. Their new label (RCA) passed on the option to release it and Chas Chandler, while always supportive of the band told them it was awful. It remains one of the few tracks that most Slade fans would not miss if it had never been released.
A short reprise of the song 'Til deaf do us part', called 'Till Deaf Ressurrected' closes the album.
The bonus track is the nicely tight and energetic 'Funk Punk And Junk', which was admittedly an example of them writing a 'Slade-by-numbers' merely tossed off b-side type song. Based around a simple, repetitive riff, played really on-the-beat-to-the-millisecond, with a typical Dave Hill guitar solo, it's not bad at all, though and it is good to see it included here. The band sound like they are having fun.

The CD booklet details the ups and downs of Slade's story at the time with comments from the group, a photo from Reading and singles sleeves from Europe.
A great rock album which brings a smile to the listener's face. It still sounds great.
---

The amazing kamikaze syndrome
1983
1 Slam the Hammer Down
2 In The Doghouse
3 Run Runaway
4 High And Dry
5 My Oh My
6 Cocky Rock Boys (Rule O.K.)
7 Ready To Explode
8 (And Now The Waltz) C'est la vie
9 Cheap 'n' Nasty Luv
10 Razzle Dazzle Man

11 Keep Your Hands Off My Power Supply
12 My Oh My (Swing Version)
13 Don't Tame a Hurricane
14 Run Runaway (12" Version)
15 Two Track Stereo, One Track Mind
16 Slam The Hammer Down (Hotter Mix)
This was Slade's last album made as a regularly touring group. As presented here, gathering nearly all of the permutations from the UK and USA releases, it gathers toigether the material from this period perfectly.
The album sets off to a tremendous start with 'Slam the hammer down', with Slade at their rocking best. This song doesn't let up - it storms along the whole way through and would have been just marvelous live, but that just wasn't to be.

'In the doghouse' is a light-hearted and slightly rude word game with saxophones evident for the first time on a Slade record in some years. It reprises the guitar solo from 'Ruby Red' and the backing vocals from 'When I'm dancin' as well as mentioning 'looking at the mantlepiece' and 'poking the fire'. Naughty Noddy indeed.
'Run runaway' actually broke onto the American charts, giving Slade their first bit of chart action for years, mainly thanks to the slightly silly video filmed at Eastnor Castle. The distinctive sound of the excellent band Big Country obviously inspired Jim Lea at the time. A great song that still stands up now. The drums on this song are a work of art and the arrangement is tight and very well thought out. Violins and harmony guitars give a great feel, even when the song breaks down into a jig.
'High and dry' was later covered by Girlschool (with Nod and Jim producing). A very good, melodic, mid-paced song, featuring Nod as the love 'em and leave 'em style male chauvinist pig.
'My oh my' was the instant and most obvious choice for a single release. It reached number two in the UK, with Slade being frustrated by a three week spell where the chart positions didn't change, leaving The Flying Pickets sitting pretty (or not) at number one throughout the festive season. It's a beautiful song, marvelously performed and produced and it's a sobering thought to think that Slade actually openly told people at the time that they knocked up demos stating 'We all love our Guinness, my oh my....' to the same tune. Fortunately, none of them are on here!
'Cocky rock boys' is a straight forward little rocker, devoted to chasing women and rocking out. Aimed primarily at the younger metal fan who was now into Slade, I imagine.
The 'epic' and rather obvious derivative Meat Loaf parody that is 'Ready to explode' has lots of great little tunes sewn together into its eight minutes and thirty seven seconds. Not a personal favourite, as it strays from Slade's ethos of brevity and good-time music. An example, perhaps of Slade ambitiously over-thinking their music to a point where it doesn't work. Looking for different subject matter for this album, Holder composed lyrics related to sports personalities and this track is about motor racing drivers.
'(And now the waltz) C'est La Vie' was chosen to be a single around the Christmas of 1982 - a whole year before this album was released and was a lost cause really, as radio stations didn't get it and it was lost in the rush of Christmas releases. It didn't sound that much like a normal Slade record, though it was a truly excellent song, again beautifully performed. It deserved a higher chart placing than the # 50 that it got.
'Cheap and nasty love' is a great little song, fast and brilliantly arranged and shows how commercial Slade could be when they wanted to actually do it. This could easily have been a single, if Slade hadn't been so busy trying to get taken more seriously as a rock act. Great keyboards and bass from Jim Lea feature throughout. This would have made a great live number, as would 'Razzle dazzle man', which was the original closer to the album.
Bonus tracks:

'Keep your hands off my power supply' - a b-side (to My oh my) that should have made the original album, rattles along at breakneck speed and is, I suspect, basically a solo Jim Lea track, with Nod on buzzsaw vocals. Don thumps the tubs with all the strength he can muster, while Jim layers guitar upon guitar.
'My oh my' (extended version) : Over five minutes long and Dave plays lots and lots of lead guitar at the end.
'Don't tame a Hurricane' - another b-side (to My oh my) that should have made the original album,is about the brilliant, tempestuous snooker player Alex 'Hurricane' Higgins, who certainly lived his life on the edge and in great style. The verse melody is a straight, but lovely, lift from 'Physical' - the Olivia Newton John hit. This songs bops along wonderfully and details Higgins' highs, lows, strops and drinking binges, stating that while he was brilliant, he was just uncontrollable and that no woman could control him, change him or tie him down. True.
'Run runaway' (extended version) : More and more violins and harmony guitars - an even longer chance to have a damn good jig round and knock a few things over in your living room. Go on. You know you want to.
'Two track stereo, one track mind' was yet another b-side (to Run runaway) that should have been an instant prime choice for the original album. A song about a girl who liked to make love to music wearing headphones. Brilliantly arranged and with a superb guitar solo. Vastly superior to the likes of 'Ready to explode' and 'In the doghouse', but never mind.
Unreleased commercially, everywhere in the world, the 'Slam the hammer down' (hotter mix) - the master of which (taken from the USA 12" promo only single) was provided to Union Square by this site. Sax sounds feature in the background on the album version, but remix genius Shep Pettibone (Madonna, Level 42) brings them to the fore, giving Slade a great, funky rock sound. The song is heavily edited and works fantastically well for it. Jim plays lightning-fast bass til his fingers are a blur. Superb.
Note:
The album title was coined by a certain slightly jaded lead singer who was beginning to come to believe that whatever Slade did was doomed to fail. The album was actually released during Slade's final UK tour in December 1983 and, quite bizarrely, the only song to be featured from it in a live setting was the #2 hit single 'My oh my'. The rest of it was largely unperformable on stage with Slade as a four-man group, though on their USA tour in 1984, they did play 'Slam the hammer down'. Jim Lea mentioned to this reviewer, during the 1983 tour, that a plan was to get in a session keyboard player for the next tour playing behind a curtain and to have back projections to make the next tour look and sound radically different. That idea was, sadly, not to be realised.
In the USA, this album was released as 'Keep your hands off my power supply' with a different - but actually worse - cartoon picture sleeve than the UK album. The album had a far more cohesive and respectable sound, due to the inclusion of some of the b-sides. On this issue, you get the very best of all worlds, as all of the tracks are here for you.
---
1 Hey Ho Wish You Well
2 Little Sheila
3 Harmony
4 Myzsterious Mizster Jones
5 Walking On Water, Running On Alcohol
6 7 Year Bitch
7 I'll Be There
8 I Win, You Lose
9 Time to Rock
10 All Join Hands

11 Here's To...
12 Leave Them Girls Alone
13 Mama Nature Is a Rocker
14 My Oh My
15 Do You Believe In Miracles
16 My Oh My (Swing Version)
17 7 Year Bitch (12" Version)
18 Myzsterious Mizster Jones (Extended 12" Version)
19 Do You Believe In Miracles (12" Version)
Slade become a studio band and Jim Lea takes over.
The best guitar intro ever of Slade's whole career starts the album off in utterly fine style. 'Hey ho wish you well' is perhaps the most perfect example of what latter-day Slade could and should have been all about. Excellent riff-rock with a big nagging chorus and verses twice as good as everyone else's choruses... and reminiscent in parts of Run runaway. It was performed on Saturday morning kids TV and people actually tried to buy it (even despite Mike Read miming along with the group on an acoustic guitar in the background). It wasn't available as a single and the album wasn't out yet. Duh.
'Little Sheila' (a single in Europe) is a brilliant driving pop song pretty much dominated by Jim's keyboards and Nod turns in an excellent vocal and the lyrics aren't that bad either. The video for this is one of Slade's best and was largely unseen by most Slade fans until YouTube saved the day. Fabulous.
'Harmony' borrows the intro chord sequence from The Who's Baba O'Riley and is a very middle of the road singalong. Annoying tricks with the panning of the sequenced drums and mass group chorus vocals are a little dated, but the song is pleasant enough.
When this song has finished, turn the CD player RIGHT UP.
Play the next song four or five times.
'Myszterious Miszter Jones' is utterly fantastic. There is really no other way to describe it. Coupling Nod's dynamite vocals, a great lead guitar break and Don's driving drums with a keyboard riff similar to Laura Brannigan's excellent 'Gloria' and one of Jim's best ever tunes with lyrics about the roadies was a masterstroke. Not a single beat in this song is wasted. The video for this is fantastic, if you ever get to see it. Slade in a brewery with guitars and machine guns?... Mmmmmmmmm....
'Walking on water, running on alcohol' was a personal favourite of Noddy Holder and he was bitterly disappointed when it was not considered worthy for release as a single. It is a slightly revealing song, as was the later 'Still the same' and he wanted to put it out and say something to the world with it. It is one of Slade's finest melodic moments - pure Radio Two of the day, but it was simply glorious. Jim's sensitive keyboard arrangement underpins the whole song wonderfully. Beautiful. One of Slade's finest and most under-valued moments.

Instead of Nod's much desired choice of single, the record company put out the equally revealing, but dreadfully middle of the road song, 'Seven Year Bitch'. The title put off radio stations and TV shows and the single could have done a lot better, despite a quite entertaining and well-shot promo video that is unfortunately not available to buy anywhere. The remastering really makes this song sound new and fresh.
'I'll be there' is a jolly, bouncy little song that would have done well as a single, if their record company (RCA at that time) had had a clue what to do with Slade.
'I win you lose' is full of nostalgia for Nod's home town and love - and is a VERY confessional Holder lyric. A slightly over-wrought and leaden arrangement removes almost all of the sensitivity from the piece. BUT.. at 1:29, Nod turns in an absolutely astonishing shimmeringly wonderful vocal to sing the words "Shame on me....." and then the spine tingles.
'Time to rock' recalls 'Wild Thing' and is one of Slade's 'rabble rouser by numbers' songs - and there's nothing wrong with that at all! The whistling interlude is a bit confusing - but was something to try once. They do it twice in the song...
The really big hit from the album was 'All join hands', which followed the 'My oh my' formula beautifully. A superbly lush production, epic keyboards, a wonderful plummy, floor-shaking bass part, huge guitar solo and the best mix they had had for years ensured that this song did well for the group, slightly cushioning the blow that the relative disappointment of the next few singles' chart placings would bring for Slade and RCA. The excellent promo video for this song remains largely unseen to this day.
Bonus tracks:
'Here's to....'
The chorus from Slade's own 'Thanks for the memory' is surgically attached to the Stranglers' 'Golden Brown' and it works surprisingly well. Nod gets plain trolleyed and threatens to show us good people what's under his kilt. Eeeek. All good fun.
'Seven Year Bitch' (extended version).
Your chance to hear how well Slade constructed a tight backing track.
'Leave them girls alone'
One of Slade's superior really rockin' b-sides - features what at the time was a rare Jim Lea vocal (alternating with Nod) and it sounds just great. A brilliant song that will thrill people who haven't heard this album or these songs before.
'Myszterious Miszter Jones' (extended version) :
TERRIFIC. TERRIFIC. TERRIFIC. TERRIFIC. TERRIFIC. TERRIFIC. TERRIFIC. TERRIFIC. TERRIFIC. TERRIFIC.
'Mama Nature is a rocker'
Slade playing at being ZZ Top (a la 'Legs') and doing a great job. Another great b-side. Just think what some of these songs would have been like played live....
The piano and vocal demo of 'My oh my' features the original lyrics (before the song had the 'My oh my' theme running throughout). Some of the lyrics were dropped from the finished version and it's certainly interesting to hear them. It's also quite interesting to hear how the song was so simple and yet so complete at this early stage.
'Do you believe in miracles'
This song originally featured on the Crackers album. A tribute-paying song, inspired by Nod's genuine admiration of Bob Geldof's rise to prominence as the organiser of Live Aid (despite Slade not even being thought of for the line-up), following a short but distinguished career as a singer with the Boomtown Rats. Geldof once asked Nod how he could go back to playing small venues whenthe record sales dropped. Geldof had it to come hinself when he asked that question - and come it did. The excellent promo video for this song remains largely unseen to this day.
The 'My oh my' swing version features a pleasant, fun Nod vocal over a great jazz backing by Monty Babson and his Band. It is a complete curiosity and Nod once said they sent it off to Frank Sinatra for his management's consideration. Nod sounds like he was enjoying himself, which was always a good thing.
The 12" version of 'Do you believe in miracles' closes the album and is a cracker.
As with all of the Union Square Slade reissues, the very attractive CD booklet contains an interesting and informative summary of this period in Slade's career written by Chris Ingham, as well as unseen photographs from the period. A remarkable job has been done throughout the reissue series.
---
Let's dance
Santa Claus is coming to town
Hi ho silver lining
Cum on feel the noize
Okey cokey
Merry Xmas everybody
Let's have a party
Get down and get with it
Here's to (the New Year)
Do they know it's Christmas (feed the world)
Auld lang syne / You'll never walk alone.
Slade were originally offered a very good deal to record this album by the Telstar label. The album was probably the best-selling of Slade's latterday career. The issue reviewed here contains 11 tracks and features a few Christmas songs given the immense Slade treatment and in the context of a Christmas party album, even the Slade version of the Okey Cokey actually makes perfect sense in this context.
The party songs are REAL party songs. Slade sound like they are actually having a good time in the studio. The importance of this reissue is that it makes a few songs available on CD for the very first time, including new versions of 'Cum on feel the noize' and 'Get down and get with it' .
The re-mastering gives the sound a bit of extra clout, too.
Trivia note:
Jim Lea absolutely hated the idea of recording a version of the Okey Cokey to the point of refusing to do it.
He was told that if he didn't show up at the studio, Nod would play bass on the track.
---
1 Love Is Like A Rock
2 That's What Friends Are For
3 Still The Same
4 Fools Go Crazy
5 She's Heavy
6 We Won't Give In
7 Won't You Rock With Me
8 Ooh La La In L.A
9 Me And The Boys
10 Sing Shout (Knock Yourself Out)
11 The Roaring Silence
12 It's Hard Having Fun Nowadays

13 Still The Same (12" Version)
14 Gotta Go Home
15 Don't Talk to Me About Love
16 Wild Wild Party
17 You Boyz Make Big Noize
18 You Boyz Make Big Noise (Noize Remix)
19 You Boyz Make Big Noise (Instrumental Boyz Version)
20 You Boyz Make Big Noise (USA Mix)
21 Let's Dance (88 Remix)
The Salvo reissue series of Slade's original albums logically concludes with You Boyz make Big Noize, their last album, released in 1987 to a largely indifferent record-buying public who were more into effete electronic bands that dominated the charts.
It's sad that the series concludes with this album for a few reasons; firstly, Slade should have carried on to make more albums, secondly, it shows that they were clawing their way back to their best studio sound for some years, and finally, I guess we want a lot more reissued music and video from Slade. More exists, but is unlikely to ever be made available legitimately.
This has been an exemplary reissue program in many respects - the fans have been involved and listened to by the record company all along and we have got just about what we want in all cases.
The booklet with this CD is illustrated by a series of fun photos of Slade with Betty, the cleaner at Wessex studios. She is the lady who originally coined the album's name (by way of a chance remark about what a big noise Slade made) and eventually the single of the same name. An informative narrative of the period in the group's career is once again written by Chris Ingham. Don Powell candidly shares his feelings about the record and the state of affairs in the group.
The music:
Slade returned to a more gritty-sounding hard rock approach in their music, whilst still retaining a commerciality and melodic appeal. A number of the songs could have been chosen as singles. The lead track, Love Is Like A Rock had even been a minor hit in the USA for Donnie Iris and was chosen to inspire some confidence at CBS, their record company in America, who were tasked with releasing the album.

Love is like a rock was chosen to head off the album. Chosen by Jim Lea, it was not an original Slade song - it was an odd start to the album. Jim may have thought it sounded like Slade and it was definitely a good, bombastic start to the album, but.....
That's what friends are for was a single and on this remaster, sounds the best it ever has. The bass end is definitely restored to how it should sound. Catchy and melodic, this song should have been a contender.
Still the same is one of Noddy Holder's most wistful lyrics ever. If it is about his own life in any way, it is a brave and revealing piece of work. A beautifully arranged backing track and a tremendous vocal make this possibly the stand-out track on the whole album.
Fools go crazy is a lightweight piece of bouncy rock fluff, with a great Nod vocal and chugging guitars to the fore. Jim's keyboards drive this song - a reflection of the fact that Slade were now completely studio-bound, with Nod refusing to play any more live shows.
She's heavy features keyboard bass parts and probably some sequenced drums. Very 80's technology! Massed vocals on the verses make Nod's solo vocals stand out as a refief when they are used and the track sounds like the kitchen sink has been thrown at it. Good lyrics about a big fearsome woman!
The guitars on the excellently catchy We won't give in are heavily reminiscent of Nik Kershaw's carefully sculpted single, Wouldn't it be good and and the song is a joy to hear. Again, Slade resort to massed vocals on the choruses, to get an 'anthemic' feel.
Won't you rock with me is again dominated by computer drums and a synth bass. Nod's vocal is all that rescues this silly little song from the mire. Filler.
Ooh la la in LA was the obvious choice for a hit USA single release - but it was not to be. Catchy and brilliantly performed, with all the references to the LA scene that they could squeeze in. Fabulous, commercial melodic rock.
Me and the boys immediately reminds the listener of Queen's We will rock you. The lyrics refer to one of Nod's pet hates - bouncers, as well as the lads night out. Acoustic guitars, HUGE drums and a slightly Big Country-esque feel work well.
Sing shout (knock yourself out) is a few minutes of irresistible pop madness. This song bounces and careers off the walls while not saying much, and borrowing from Summertime blues amongst others, to be honest, but what a great tune. Great arrangement. Great fun.
The roaring silence is apparently based on a Simple Minds keyboard riff and Nod writes a suitably manly lyric about being insatiable, etc. Massed vocals tend to remove any impact that Nod's vocals would have had. Filler.
It's hard having fun nowadays is a mid-paced Slade attempt at an anthem that yet again features massed vocals.
The bonus tracks:

The wonderful 12" extended version of Still the same makes the listeners spine tingle. It really is THAT good. Every possible permutation of the title track, You boyz make big noize is here, along with the truly excellent rockin' b-sides Gotta go home, Don't talk to me about love (featuring a rara Jim Lea vocal) and the 'Knights and Emeralds' track Wild wild party. The album is topped off with the 1988 remix of Let's dance.
---
CD1
1. One Way Hotel
2. C'mon C'mon
3. Do You Want Me
4. Gospel According To Rasputin
5. My Life Is Natural
6. Candidate
7. Wonderin' Y
8. Man Who Speeks Evil
9. I Won't Let It 'Appen Agen
10. I'm Mee I'm Now And That's Orl
11. Kill 'Em At The Hot Club Tonite
12. My Town
13. Don't Blame Me
14. She Did It Me
15. O.K. Yesterday Was Yesterday
16. So Far So Good
17. Raining In My Champagne
18. Can You Just Imagine
19. When The Chips Are Down
20. L.A. Jinx
21. Forest Full Of Needles
CD2
1. Ready Steady kids
2. O.H.M.S.
3. Daddio
4. It's Alright Buy Me
5. Not Tonight Josephine
6. Funk Punk And Junk
7. Keep Your Hands Off My Power Supply
8. Don't Tame A Hurricane
9. Two Track Stereo One Track Mind
10. Here's To (The New Year)
11. Leave Them Girls Alone
12. Mama Nature Is A Rocker
13. My Oh My (swing version)
14. Gotta Go Home
15. Don't Talk To Me About Love
16. Wild Wild Party
17. You Boyz Make Big Noize
18. Lay Your Love On The Line
19. Red Hot
Over the course of two discs, 'b-sides' collects nearly every Slade b-side - in pristine condition and also in the correct chronological order. Some of these recordings come from way back in the period when the band were trading honourably under the name of Ambrose Slade and also as The Slade .
The songs that made it to the flipsides of their 45's are very important, because they very often showed a more melodic and thoughtful side of Slade that the people who may not have bought their massive selling records - and even the ones that didn't chart - would almost certainly never have heard. These songs rarely made it onto the radio, even at the height of Slade's success.

Prepare to listen to a slightly 'different' Slade than you may be used to - one you may like even more than the one you know....
This two CD set, as you can see, gathers almost all of the b-sides from Slade's huge list of 45rpm releases.

The first notable track is One Way Hotel. The version which appears here is different from any featured on any Slade album. It contains a much 'jazzier' guitar part, possibly rejected as unsuitable for use on Play it loud. C'mon c'mon never ever appeared on any mainstream Slade album. Do you want me and Gospel according to Rasputin appeared on the b-side of the Get down and get with it 'maxi single' - and are just about impossible to find without a natural but frustrating 30+ year accumulation of attendant crackles and pops.
The 'champagne years' - as fans call 1972 to 1975 - produced a run of fantastic songs relegated to the b-side of Slade's mammoth run of monster hit singles, such as Cum on feel the noize and Merry Christmas Everybody, not because they were in any way inferior - but simply because they hadn't been recorded during album sessions. Check out Kill 'em at the hot club tonite, Wonderin Y and She did it to me for a Slade you never knew existed!
A couple of songs had the honour of being album tracks as well as b-sides, but Slade didn't really tend to do that very often. It was often the case that Don Powell and Dave Hill contributed to the writing of songs placed on b-sides. The main two hit songwriters were thought to be Holder and Lea and so their efforts generally filled the band's albums. The distribution of royalties only became an issue within the band when the record sales eventually dried up.

In the late 1970's, The Midlands Own Ministers Of Fun moved onto Chas Chandler's small Barn label, which Polydor distributed..... sporadically. A number of singles released on that label vanished totally without trace, making them quite rare and sought after nowadays and as a result, Slade came very close to splitting up. Apart from the strange abberration of recording a version of The Okey Cokey (not included here!!!), they were releasing some of the best records of their career, but nothing was selling, as Slade were' old hat'.
The Barn singles produced such fine songs as Forest Full Of Needles, which featured one of Dave Hill's better guitar parts; OHMS - a heartfelt rail against the British Tax system which had previously been caning Slade to the tune of 97% of their income; It's alright buy me - a chart-cert mighty rock track,which was, at one time, destined to be a storming a-side, until the extraordinarily bad choice was made to relegate it to a b-side of the tinkly piano tune, 'Rock and roll bolero' (which Dave Hill could have predicted the failure of, as soon as the piano was wheeled into the studio. 'Piano equals failure' was Dave's grumbled motto). Not tonight Josephine was a sprightly rocker that should have been an a-side too. What happened???

Slade's resurgence at Reading in 1980 gave them a new lease of life and eventually got them a deal (via Chas Chandler) with RCA, after a few releases on their own indie Cheapskate label . The RCA deal produced more hits and more b-sides - some of the best being Leave them girls alone, Don't tame a hurricane and Keep your hands off my power supply - all of which are included here..
This two CD set will make a lot of people very happy indeed. 40 great Slade songs - many hard to get and many unheard for years all in one place - and not stupidly priced, either.
---
For many years now, it has been blatantly obvious that SLADE were one of those bands who were more deserving than most to have a complete career overview package released in the form of a box set. SLADE had more hit singles and albums than just about anyone else from their era.
This situation has now been resolved with the release of THE SLADE BOX by Salvo and Union Square Music.
One of the great problems with a band like SLADE is that, for many who weren't fortunate enough to have been around at the time, they are known only as 'that band who did that Christmas record'... or worse still, as a set of glam rock brickies, along with The Sweet and T.Rex.
That's a pair of great understatements and falsehoods (that does none of those excellent bands any favours) concerning a long and very distinguished career, which took in around twenty albums and a fantastic run of singles which turned all of the band members into household names in the seventies. Most everyone who had ears knew a SLADE record when it came on the radio and many could name all four of the band.... something previously reserved for the likes of The Beatles and The Rolling Stones. Can anyone who's reading this name all the four or five members of Oasis? I thought not. Sorry, Noel.
This 4CD box set aims to set the record straight and let people who care to listen hear that Slade were one helluva rock band. The most important thing here is the music - even though the 72 page booklet will thrill most fans, with its exclusive and unseen photos, Keith Altham essay and band comments. I won't spoil the surprise, but you have to see it!
Slade started off as just another Midlands band, with four great musicians and a distinctly bizarre setlist, slogging it out on the national club circuit, but it took the input of Chas Chandler (whose unique importance to SLADE's career could never be over-stressed) to get them to focus on writing songs and to produce the massive hit sound that stayed with them from day one right up until the day they parted company with him.
Immediately upon taking over their management, Chandler got the band into the studio and had them record a new song he had found for them called 'Wild winds are blowing'. Straight away, it was noticeable that they had found a tough, aggressive sound on record that wasn't there before.
Their impressive musicianship shines through on the early recordings at the start of disc one. Their breakthrough single was 'Get down and get with it' . That early hit record set the tone for their majority of their career. Nod's vocals that could vary from a subtle whisper through to a bellowing rawwwk scream, appear on every song, over unison guitar riffs, cracking drums and pulsating throbbing bass - delivering great, catchy, loud good time music.
The band had their subtle and melodic moments too - often these are ridiculously forgotten when compared to the likes of 'Cum on feel the noize', 'Gudbuy T'Jane' and 'We'll bring the house down' - all big hits for the band.
Songs like 'Everyday', 'How does it feel', 'Far far away', 'All join hands' and 'My oh my' are joined here by classic b-sides like 'Kill 'em at the Hot Club tonite' (the least likely song SLADE ever released - a versatile jazzy cross between Stephan Grapelli and Django Reinhardt), 'Wonderin' Y' and 'She did it to me' - huge fan favourites and sounding as good as they ever did!
Slade's formidable chart statistics are available on this site and they show what a BIG group SLADE were.
Disc one captures their earliest chart successes - and some of their biggest ones, too. A stray track from Slade Alive! (see the live anthology to hear more of this utterly breathtaking show) shows the sheer power of the band when they played live.

Disc two continues through the remainder of what the band called 'the Champagne years' (including a rare feature vocal by Jimmy Lea on 'When the lights are out') and takes us into the period when Slade moved over to Barn Records. Their 'Whatever happened to Slade' album didn't sell that well at the time and it's pleasing to hear some of the better tracks on here now. The astonishing 'Be' sounds as unbelievable today as back in 1977.
Disc three starts with Slade's one and only noble attempt to dent the UK charts with a football anthem ('Give us a goal'). If the song had been about anything else, it would have charted convincingly. It's a quite credible rock tune!
Fickle music fashion at the time dictated that their follow-up singles didn't get radio play and some of Slade's best ever songs sunk without trace. However, they are resurrected here: 'It's Alright Buy Me', 'Ginny Ginny' and 'Not Tonight Josephine' are some of their strongest ever performances and it's great to hear them again, newly remastered and sounding all the better for it.
SLADE had their well-documented chart resurgence after the Reading Rock Festival in 1980 (where Jim Lea had his famous little strop about having written more hits than the rest of the bill put together - which he had) and followed it up with another smash appearance at Donington in 1981. There are tracks here from their then-current albums and they show how SLADE adapted to the times, yet kept their own individuality and sense of fun.
Still, no-one else sounded like SLADE.
Around this time, after an abortive 1984 US tour where Jim Lea was dogged by severe ill-health, Noddy Holder called an abrupt and total halt to the band's live shows and SLADE's profile inevitably lowered. It was a bizarre thing to happen, because their music was still such really strong stuff. They were still making great records, as you will hear from the evidence here.
The final disc of this set - disc four - shows the band at the point where they began to finally get an amount of chart success in America after years of trying. It features songs from their 1983 'Amazing kamikaze syndrome' album (re-titled 'Keep your hands off my power supply' in the USA, where it was released with an amended track listing on the CBS label). The best known of these will probably be 'My oh my' and 'Run runaway' - both quite sizeable hits in the UK.
The follow up albums 'Rogues Gallery' and 'You boyz make big noize' are also represented here by some songs that SLADE never ever played live. The decision to stop doing live shows allowed them to expand their sound in the studio, without the problem arising of how to actually reproduce that sound on a stage. The sound became much more lush as Jim Lea took more of a hand than ever in production duties and playing instruments for the band.
The band's final two single releases are here : 'Radio Wall Of Sound' and 'Universe' are both excellent songs and great performances. While 'Radio Wall Of Sound' earned SLADE a few Top Of The Pops appearances, Universe failed to chart - mainly because the radio stubbornly avoided SLADE that year at Christmas and also because most of the population appeared to want to buy the album it was featured on (a fate that sadly also befell their most highly regarded single 'How does it feel' when the world went out and bought the 'Flame' film soundtrack album rather than the single, thus lowering its eventual chart placing).
This box set is the release that SLADE have deserved for a good long time now. It pulls together their best known songs and adds some of their strongest material. It's all remastered to get the very best from the recordings. There is NO padding on here at all. Just about every song (apart from Okey Cokey) is top quality stuff!
---

Slade In Flame - The DVD Collectors Edition [Region 0]
There are mixed thoughts from various camps about this film. Did Flame really kill Slade's career? Dave Hill seemed to think so. However, Noddy Holder and Jim Lea both love it. Don Powell is rightfully proud of it. There is no bad acting at all, so it couldn't have been that... So what could it have been that had people worrying about this film?
The theory that Dave Hill frequently posits is that Flame confused Slade fans and that they believed that the four members of Slade all hated each other, which very notion was indeed, stark bilge. Dave Hill is not so sure about the wisdom of doing a dark, realistic film instead of a jolly happy film. Slade fans were not quite dim enough to confuse the film as being a Slade documentary. Despite that, the band did their best to dispel that notion on the UK tour to promote the Flame album. Nod gave Jim a quick kiss on the cheek and said that they loved each other really, before leading the band on to the next level of pandemonium with their next song..

Flame is a most creditable film that critics only appreciated with an unfortunate degree of hindsight. They could have given it the praise it gets now at the time it was released. It stands the test of time, but a bit more praise at the time would have been good. There is a lot of dark subject matter and a bit of violence, but there is also a quite a fair degree of humour too. Don is comic without much effort (but see Holder's comments in the featurette).
The reissue DVD of Flame comes with much improved (pristine) picture and sound quality from previous versions - all of the picture is on screen at last - and an hour long featurette section that contains interviews with all the principal players in the film (including Tom Conti and Director Richard Loncraine). You probably know about the quality of the songs featured in the film, including How does it feel and Far far away.
The interviews are quite revealing. Jim Lea again relates how he basically played himself in the film and the group still easily spot themselves written large in the characters that they played.

Jim; the musical and seriously moody one. Jim plays Jim. Nod; the loud brash singer and showman. A bit of a lad.

Don; the one at the back who didn't have lots to say, but held the band together with a down to earth attitude and an earth-shaking, solid beat. His conversational scene by the canal is one of the most mentioned and best written parts of the film and it excellently illustrates in just a few moments how the band were seriously not coping with their new found success.

Dave; is Dave with a newly bought fringe. Extrovert on stage, a bit silly in the dress department and a good guitarist with a developed sense of flashness that lifted the band to the top flight.
The surrounding characters in the film are written from the band and Chas Chandler's observations and tales of clubland and the music business. Ron Harding and his henchmen are a stereotypical agent and his stooges from the time, far more interested in the performance of their dog at the track and the payout from the fruit machines than any of the bands they happen to handle. Slade were luckily far more fortunate with their own real life agency.
Tom Conti plays a manager who gets someone to go find him a pop group to sell. He can sell anything that he is given to sell and pop groups can be sold as product too. He takes the group on as a challenge and a marketing exercise, much to the disapproval of his company's executive board. He plays himself too, a vague and slightly charming wimp who cuts out when he has proved his point and the going gets exceedingly bad, dropping the band like an old newspaper.
Alan Lake gave an outstanding performance as a stereotypical club singer, who wished he was Elvis, with a degree in singing dated, corny songs in hundreds of smoky bars and at weddings. Russell the roadie has a few choice lines as do the ladies attached to the band.
So why does this film actually matter all these years on?

So very few rock films have dealt so well with the darker side of the business. 'That'll be the day' and (to a lesser degree) 'Stardust' came close to what 'Flame' achieved - they told the story of a band, their rise to success and what it gained them and cost them personally. Even Led Zeppelin, with all their gravitas, massive success and heavyweight pretentiousness brought out a tour film 'The song remains the same' which was excellent from a performance point of view, but which had had no actual plot to speak of - apart from band lounge round at home then go on tour, have odd fantasy sequences and get applauded - and the 'acting' was particularly lame. 'Flame' was a superior piece of writing and Slade were the right band to inspire it and to act it out. If Slade had made a jolly romp a la 'Hard days Night', we may not have been talking about them now...
Cast aside the fashion crimes that occur at intervals and this is an eminently watchable film. The soundtrack (a CD of the remastered Flame soundtrack accompanies the special edition) is truly superb and is one of Slade's career highpoints. Well worth buying - even if you have the film already. The featurette is well edited and all of the band and Loncraine and Conti answer honestly and engagingly. The booklet includes a set of photos from the period with interesting and engaging comments from Jim Lea.

It has to be said that the picture quality on this DVD edition makes every other edition that has been out previously look dreadful. The restoration is a total masterpiece.
---


This album pulls together the cream of the RCA period songs on two discs. The latterday hits are all here, as well as the best of the rest and if you want to take a generous scoop of great songs from the back end of Slade's enormously distinguished career, this is a great way to do it.
The original RCA sleeves are replaced by a cover image from the same session as that used for Slade Smashes, which nicely recalled the Slayed? album cover. The CD booklet gives some interesting info regarding the individual songs, as well as being illustrated with some great photographs.
Disc one
1. Run Runaway
2. Everyday
3. We'll Bring The House Down
4. Ruby Red
5. C'est La Vie
6. Do You Believe In Miracles
7. Still The Same
8. My Oh My
9. All Join Hands
10. Wheels Ain't Comin' Down
11. Seven Year Bitch
12. Myzterious Mizster Jones
13. Lock Up Your Daughters
14. Me And The Boys
15. Gudbuy T' Jane
16. Mama Weer All Crazee Now
17. Love Is Like A Rock

Disc two
1. Sing Shout (Knock Yourself Out)
2. Roaring Silence
3. That Was No Lady That Was My Wife
4. We Won't Give In
5. Razzle Dazzle Man
6. Rock 'n' Roll Preacher (Hallejulah I'm On Fire)
7. I'll Be There
8. I'm A Rocker
9. Ruby Red
10. Slam The Hammer Down
11. Ooh La La In LA
12. Harmony
13. Hey Ho Wish You Well
14. Hold On To Your Hats
15. Cheap 'n' Nasty Luv
16. Little Sheila
17. When I'm Dancin' I Ain't Fightin'
---
This 2CD 'Rockers' collection does exactly what it says on the tin. It rocks. A good number of lesser-known Slade rockers get a well deserved airing here. Obscurities like 'Could I' from Play it loud (originally by Bread) and the Ambrose Slade version of 'Born to be wild' and some other choice cover versions (such as Joplin's 'Move over',and Chuck Berry's 'I'm a rocker) feature on this set. With tracks selected by Noddy Holder and Jim Lea, the listener gets the impression that the cream of Slade's rockin' tracks are here - regardless of whether they made it as singles or not. All periods of the group's career are covered and the collection is cohesive and powerful. The tracks DO fit well together. No ballads here. Take this to a party and it won't get taken off (unless the village idiot is present).

CD1 covers 1969 to 1979 and disc two takes us from 1980 onwards. This and the excellent 'The Slade Box' provide a very good career overview between them.

The tracklisting speaks volume(s) for itself and it's pointless going into the several merits of each track - suffice to say that Nod and Jim have gone for really rocking tracks rather than just feeding us the singles again and again. There are just a couple of really choice 45 A-sides on here and they really deserve the room. This particular reviewer has listened to this several times and loves it.

Most of these songs could have been very credible single A-sides and Slade's career and rock reputation wouldn't have suffered one iota. It's that good a collection. A very satisfying collection. If you have most of the tracks, buy it for someone who hasn't.
Disc One
1. Born To Be Wild
2. Could I
3. The Shape Of Things To Come
4. Get Down And Get With It [Live]
5. Move Over
6. The Whole World's Goin' Crazee
7. Look At Last Nite
8. Let The Good Times Roll / Feel So Fine
9. My Town
10. We're Really Gonna Raise The Roof
11. Don't Blame Me
12. Good Time Gals
13. Do We Still Do It
14. Standin' On The Corner
15. O.K. Yesterday Was Yesterday
16. Them Kinda Monkeys Can't Swing
17. Scratch My Back
18. Be
19. Burning In The Heat Of Love
Disc Two
1. Wheels Ain't Coming Down
2. Night Starvation
3. I'm A Rocker
4. Rock N Roll Preacher
5. Knuckle Sandwich Nancy
6. Let The Rock Roll Out Of Control
7. Ruby Red
8. Keep Your Hands Off My Power Supply
9. Don't Tame A Hurricane
10. Slam The Hammer Down
11. Cocky Rock Boys (Rule O.K.)
12. Myzsterious Mizster Jones
13. Time To Rock
14. Leave Them Girls Alone
15. Let's Have A Party
16. Hey Ho Wish You Well
17. She's Heavy
18. You Boyz Make Big Noize
---
'Slade live at the BBC'

This two disc set was given a provisional release date of September 28th 2009 in the UK, almost forty years on from the dates of the earliest session recordings that are to be found on the discs. Jim Lea worked on the remastering with Tim Turan and the result is most satisfying. Jim shares memories of the time in the booklet that accompanies the two discs.

On disc one, Slade's 'Play it loud' and 'Slade Alive!' period is amply represented by a number of songs from the albums - mainly written by Jim Lea and Don Powell and a rivetting set of cover versions that never made it to an official Slade release.
Coming Home
This Delaney and Bonnie track, broadcast in January 1970, when the group were still sporting their skinhead haircuts, fairly stomps out of the speakers. If the group generally sounded like this live at that period, then they were a truly formidable bunch. A radio announcer voiceover (as on a number of the other tracks) doesn't distract, it simply adds to the period charm of the recording.
The Shape of things to come
A very subtly chorded intro and disciplined playing from the group make for an excellent performance.
See us here
Introduced as being a Jim Lea tune, See us here from Play it loud features some of Jim's most versatile and energetic bass playing. An object lesson to bassists everywhere.

Know who you are
Driven by Don and Jim, with excellent vocals, this has a gorgeous intimate 'in the room' feel to it. Dave Hill does some lovely falsetto 'scat' singing at the end.
My life is natural
A song composed solely by Noddy Holder that was featured as the flipside to Coz I luv you. The band stamp what was going to become their trademark sound all over it. Great to hear this live, because, being a b-side, it never became a regular feature at Slade's live shows, so a radio outing was possibly as far as it got. Great distorted bass from Jim and a clattering Don on the kit make this far more energetic than the released version.
Coloured Rain
Jim brought this psychedelic Traffic song to the band. Complex and very heavily arranged, yet still very melodic.
Great guitar and bass work throughout and Don works up a sweat.
Man who speeks evil
Another b-side that didn't ever get heard that much live, except for radio sessions. At the time it was up for consideration as an album track, only to have to make way later on for some songs that were considered to be more commercial and written by Holder and Lea.
Move over
A noticeably different arrangement to that which featured on Slayed? It's so interesting to hear the group finding their way to what would become the final album track. Great fruity bass tone from Jim's Gibson EB3 and vastly different lead guitar from Dave at the end.
Omaha
Inspired by seeing the Idle Race playing the Moby Grape song 'Hey Grandma', Jim nipped down to The Diskery and snapped up a copy of the single. On playing the b-side, the band went with that track instead. Good choice!
Sweet box
Another Play it loud track. Great massed vocals. This song always had a terrific energy and this performance is one of the best you would ever have heard. Jim's bass goes into overdrive on this performance.
Nights in white satin
Exclusive to this CD and not available elsewhere, this Moody Blues song gets the Slade ballad treatment - a fairly faithful and thoughtful arrangement, but with added grit, thanks to Nod's vocals. Whether the Beeb's odd insistence on making Jim overdub his violin a staggering ten times made a huge difference, only Jim will know!
It's alright Ma, It's only witchcraft
A Fairport Convention song may seem an odd choice for Slade - 'til you hear this version get going properly. Nice and jazzy. But Slade give it their trademark thump. This would have fitted on Play it loud brilliantly, but we'll have to just imagine that!!!
Raven
A very lively, but faithful, version of the excellent Play it loud track and once again, this gives you food for thought about what wonders Slade must have had in their set before they hit the charts big time.
Gudbuy Gudbuy
A radically different arrangement of the song to that released on Slayed? later on. Piano and chiming guitars a-la Coz I luv you drive the song along. The song hasn't yet found its final bluesy yet bombastic feel and the general beat is more regular and driving. A song in transistion and a fascinating listen.
Getting better
To please the housewives out there, they pulled a song they had dropped from the set out of the hat. Again, it's fairly faithful to the Beatles original, but faster and a good bit more gritty. The band hurry through this as if there is a pint waiting for them in the pub, but it's still a joyous version, despite it having fallen out of their live show a while before.

Darling be home soon
This song needs little or no introduction. Played with a degree of tenderness, followed by a hail of thunder. You know just exactly how this goes.
Let the good times roll
This song was a stage favourite of the group. This rollicking version version is taken from a John Peel session.
Get down and get with it
The song that never grew tired, despite being played by the group several thousand times during their career. This too, is a very spirited version, recorded for the Sounds of the Seventies show in May 1971.

Wild winds are blowing
This song shows just how different and distinctive Slade really were at that time. The performance is great and the band attack this song as if their lives depended on it.
Four promo inserts for the group recorded for Radio 1 end the fist disc, two being recorded over backing tracks for Everyday and one of My friend Stan.
Disc two comprises a concert recording from the Paris Theatre, London from August 17th 1972. This will be familiar to a number of Slade fans and it's without a doubt a cracking show, featuring a few more live gems that were never officially released until now.
HEAR ME CALLING
IN LIKE A SHOT FROM MY GUN
LOOK WOT U DUN
KEEP ON ROCKIN'
MOVE OVER
MAMA WEER ALL CRAZEE NOW
LADY BE GOOD
COZ I LUV YOU
TAKE ME BAK OME
GET DOWN WITH IT
GOOD GOLLY MISS MOLLY
Not everything that Slade recorded for the BBC survives intact or in perfect condition, sadly. A number of BBC recordings they made have been lost over the years. This new collection does Slade's long-standing reputation as a thunderously powerful and highly skilled set of musicians no harm ar all. It is also a fitting testament to the skill of the ever so highly under-rated writing collaboration between Jim Lea and Don Powell, which gave the group an 'underground' credibility with a lot of hard rock fans at the time, before the glitter and stack heels got in the way.
---
Slade Alive! (limited edition vinyl reissue)
2011
Mickey Parker sums up the difference between the original Polydor vinyl edition and the Salvo reissue:
The artwork is well presented, a good quality card, a high sheen finish replaces the matt, same bright red colour but this time the black is BLACK. On the front, in the bottom right corner, a neat little Salvo logo replaces larger Polydor original. On the rear, the top right corner cat no is no longer required and once again the original bottom left Polydor logo is replaced, but this time its accompanied by the ugly regulation bar-code.
Inside, all the original artwork remains, again it's all sharp as a pin. On the left hand side along the bottom we have extra credits. A small unobtrusive and neatly designed USM credit and a larger, bolder, Newman & Co address
If you look at the spine you'll notice that SLADE ALIVE! is all that is stated. On the original, SLADE was to the left, SLADE ALIVE! in the middle and POLYDOR SUPER 2383 101 to the right. The main visible difference on the cover is the spine info. It's strange seeing the Salvo Info instead of the familiar Polydor Super 2383 101.
After the SALVO logo, the first thing you notice is the addition of 2009 Whild John Music above 1972 Whild John Music. The 1972 is no longer beneath the A for A side. The surrounding writing has some additional Re-Mastered info but otherwise, all looks very much the same.

Removing the disc, the weight difference is considerable. The label has been designed to look familiar whilst being clearly different.
I guess the most important thing is, when placed on the turntable, to these 50 year old damaged ears, it sounds fresh and vibrant just the way it should. The high end heard on Tim Turan's CD re-mastering is not apparent here. On my average budget spec turntable with a reasonable quality stylus, both copies of vinyl are the same except for a less muffled sound on the re-master. The tambourine is more apparent in the intro to Hear Me Calling and there is no sound sway when the track kicks in. It's a nice, healthy, balanced sound and a very nice package.
Look for it as from 28th September, makes me want to buy a new turntable?
** Additionally: Dave and Don are removed from the songwriting credits for 'In like a shot from my gun'.
---


When Slade Rocked The World 1971 - 1975.
I must confess that, after eagerly anticipating the arrival of this package, I really felt like a kid at Christmas when finally I got round to carefully opening it. A plastic courier pouch gave way to a sturdy and impregnable cardboard box. Followed by a lot of red Slade Box. Reassuringly heavy.
I carefully removed the shrink wrap and there it was…. When Slade Rocked The World.

Bright, eye catching red with four familiar figures on the front, one clad in what fans jokingly refer to as the 'Wonderbra' outfit and the other in a tartan top hat, the other two dressed far more conservatively. In case you have lived under a stone for the last 40 years or more and don't know who these people are, the word SLADE is emblazoned across the front of the box too in large reassuring letters.

Upon opening the box, you are first of all faced with four vinyl albums. The first one is another huge flash of red. Having broken out the trusty record deck, on goes 'Slade Alive!' On heavyweight vinyl and cranked up to an appreciable volume you are back in 1972. The vinyl is red too, so you can't miss it. 'Hear me calling', their stage opener for many years, always sounds good and fresh and it never gets old. Watching a vinyl album go round and round and round on a turntable is much better for the soul than sticking a CD in a tray or pulling up an mp3 from a list. I'm no expert on the varying qualities of vinyl, but it sounds just great to me.

While that's playing, I look at the other albums… The first Slade album I ever bought, 'Slayed?' is there and it's on heavyweight brown vinyl. I read Chris Charlesworth's sleeve notes again for the first time in an age. CD's just don't have room on their covers for the content of a real vinyl 12" record. I quietly curse the record companies for inventing those soul-less shiny discs and digital music and pull out 'Old New Borrowed and Blue', which again has their lyrics printed in the gatefold sleeve. 'Don't blame me' with that deafening roar at the beginning, the mellow 'Everyday'. Slade's pop album, appropriately presented on blue vinyl for the first time ever.
I do have to question why the album and single sleeves all appear to be scans of the originals and the print is not as clear.
This is quite a bit of an error.

Their most accomplished and mature album was the soundtrack to their film. 'Slade In Flame' caught them at their creative peak as writers and features some devastatingly good work. 'How does it feel' wasn't a hit at the time, but is the song that many picked out in later years as Slade's best. Jim Lea had the basics of that song cooking in his brain at the start of the band - almost ten years before. If you're wise enough, a good idea like that never gets wasted. Noddy Holder was always proud of 'Far far away', but there are so many highlights to the album. I marvel at Jim's bass runs on 'Lay it down' and am a happy man. The yellow vinyl goes round and round and I really do curse the invention of the CD again.

While Flame is playing, I sift through the 8 lobby cards that a few lucky fans managed to pick up when the film was showing in cinemas. Barry's fake 21st party, the live show, the band in the cells, Jack Daniels fronting the DT's, Dave playing the Framus Nashville guitar that sent me out to find the matching bass.

Digging further into the seemingly bottomless pit of the box, I find a mint condition George Tremlett SLADE paperback, which I devoured from cover to cover when it first came out in late 1974. It covers the story of Slade's rise to prominence and lists their live appearances and notable dates from their career in the appendix at the end of the book. I missed their appearance at Bolton Casino on October 11th 1971 - I wouldn't have got in, as I was too young. Damn. The place is a supermarket now and going there certainly doesn't evoke any memories of Slade rocking the joint. But you can buy fish fingers. I put the book down to read later.

Two unique CD's with the four albums on are next, for those who have slavishly bought the set, despite not having a record player any longer!

Four vinyl singles in unique pairings with picture sleeves are up next.

In a parallel universe, 'Coz I luv you' was coupled with 'Look wot you dun' on the red Salvo label and stayed at number one until their next single 'Take me bak 'ome', coupled with 'Cum on feel the noize' came along to cheerfully knock it from the top spot. This in turn was dislodged by the outrageously raucous 'Skweeze me pleeze me' and it's little-known b-side 'Merry Xmas Everybody', which could have been a chart topper in its own right…. The final 45 offering couples 'The Bangin' Man' and 'Thanks for the memory' – the Slade song John Bonham wished he had played drums on.

To top that, a flexi-disc given free to readers of the girls magazine '19' is included. Noddy and the boys chat up the girls and invite them to buy their new album – as if they hadn't already.

Completely unique to this box is the hardback annual 'When Slade Rocked The World' which charts key moments from their glory years 1971 to 1975 and some of Dave Hill's more errmm… memorable outfits by way of dozens magazine articles and interviews from each year. Adverts for their stage equipment, concert tickets from around the globe, including the cavernous Manchester Belle Vue – I was there!!

As I wrap this piece up, the band are clattering their way through 'Thanks for the memory' and for a moment I am that kid at Belle Vue, listening to that same song at deafening volume, stood halfway back at the right hand side of the hall, out of the way of the mad crush and all the damaged seats in the front of the stage (that mad crush wouldn't be as forbidding when I got a bit older, so I would find myself right in front of Jim Lea about fifty times in years to come). The group were superb that night and they were all the few of us from our school who were lucky enough to get tickets could talk about for weeks to come. Slade were so important to us then – certainly the biggest UK band to emerge after The Beatles. They were great fun and a complete antidote to all the serious, depressing stuff that some bands were putting out at the time.
If someone who wasn't there at the time picks up this box and gets a mere one percent of the buzz that I got from this fabulous music all those years ago, that will be a lovely thing.

Contents:

• 4 x vinyl LPs (Slade Alive!, Slayed?, Old New Borrowed and Blue and Slade In Flame) reproduced in their original sleeves, remastered for optimum sound and pressed on 180gm coloured vinyl

• 4 x double sided picture sleeve singles covering the key hits of the period not on the albums –
'Coz I Love You' / 'Look Wot You Dun'
'Take Me Bak 'Ome' / 'Cum On Feel The Noize'
'Skweeze Me Pleeze Me' / 'Merry Xmas Everybody'
'The Bangin' Man' / 'Thanks For The Memory'

• Flexidisc Slade Talk to '19' Readers

• 2 CD collection of the audio on the four vinyl LPs (Slade Alive!, Slayed?, Old New Borrowed and Blue and Slade In Flame)

• 10" annual style hardback book featuring reviews, features and memorabilia from each of the key years along with an introduction by Mark Ellen

• Reproduction of George Tremlett's excellent 1975 book The Slade Story which includes period interviews with all four members and a chronology of tour and release dates up to the time of its publication

• Presented in a sturdy 12" box with foam fitment
THE PLEDGEMUSIC LTD EDITION (1000 COPIES) INCLUDED A SET OF 8 REPRODUCTIONS
OF THE ORIGINAL SLADE IN FLAME FILM LOBBY CARDS! VINYL LP & SINGLES

TRACKLISTINGS
Slayed?
(1) How D'You Ride
(2) The Whole World's Goin' Crazee
(3) Look At Last Nite
(4) I Won't Let It 'Appen Agen
(5) Move Over
(6) Gudbuy T'Jane
(7) Gudbuy Gudbuy
(8) Mama Weer All Crazee Now
(9) I Don' Mind
(10) Let The Good Times Roll
(11) Feel So Fine
Slade Alive!
(1) Hear Me Calling
(2) In Like A Shot From My Gun
(3) Darling Be Home Soon
(4) Know Who You Are
(5) Keep On Rocking
(6) Get Down With It
(7) Born To Be Wild
Old New Borrowed And Blue
(1) Just Want A Little Bit
(2) When The Lights Are Out
(3) My Town
(4) Find Yourself A Rainbow
(5) Miles Out To Sea
(6) We're Really Gonna Raise The Roof
(7) Do We Still Do It
(8) How Can It Be
(9) Don't Blame Me
(10) My Friend Stan
(11) Everyday
(12) Good Time Gals
Slade In Flame
(1) How Does It Feel
(2) Them Kinda Monkeys Can't Swing
(3) So Far So Good
(4) Summer Song (Wishing You Were Here)
(5) O.K. Yesterday Was Yesterday
(6) Far Far Away
(7) This Girl
(8) Lay It Down
(9) Heaven Knows
(10) Standin' On The Corner
4 Double A side picture sleeve singles
'Coz I Luv You' / 'Look Wot You Dun'
'Take Me Bak 'Ome ' / 'Cum On Feel The Noize'
'Skweeze Me Pleeze Me' / 'Merry Xmas Everybody'
'The Bangin' Man' / 'Thanks For The Memory'
CD Collection Tracklisting
CD 1
Slayed?
(1) How D'You Ride
(2) The Whole World's Goin' Crazee
(3) Look At Last Nite
(4) I Won't Let It 'Appen Agen
(5) Move Over
(6) Gudbuy T'Jane
(7) Gudbuy Gudbuy
(8) Mama Weer All Crazee Now
(9) I Don' Mind
(10) Let The Good Times Roll
(11) Feel So Fine
Slade Alive!
(1) Hear Me Calling
(2) In Like A Shot From My Gun
(3) Darling Be Home Soon
(4) Know Who You Are
(5) Keep On Rocking
(6) Get Down With It
(7) Born To Be Wild
CD 2
Old New Borrowed And Blue
(1) Just Want A Little Bit
(2) When The Lights Are Out
(3) My Town
(4) Find Yourself A Rainbow
(5) Miles Out To Sea
(6) We're Really Gonna Raise The Roof
(7) Do We Still Do It
(8) How Can It Be
(9) Don't Blame Me
(10) My Friend Stan
(11) Everyday
(12) Good Time Gals
Slade In Flame
(1) How Does It Feel
(2) Them Kinda Monkeys Can't Swing
(3) So Far So Good
(4) Summer Song (Wishing You Were Here)
(5) O.K. Yesterday Was Yesterday
(6) Far Far Away
(7) This Girl
(8) Lay It Down
(9) Heaven Knows
(10) Standin' On The Corner
---

Slade Alive! Deluxe Edition (Vinyl and CD editions, 2017)
From the Pledge Music website:
"Now, to celebrate the 45th anniversary of the band's dramatic breakthrough, a very special Art Of The Album deluxe edition of that incredible album will be released on 28th August 2017.

Featuring new sleeve notes within both the CD & 180g LP formats recalling the story of the band's conception and the album's creation. Comprehensively researched and written by renowned music journalist Chris Ingham, these new sleeve notes cover in-depth the story of the album & the period in which it was written & recorded, the key players in its creation, the craft and instrumentation, the impact upon release and its legacy 45 years later. The booklet is accompanied by photos from the archive of Barry Plummer who was there at the time, documenting the band onstage as they recorded this seminal masterpiece.

Slade Alive! is the first live album released by the British rock band Slade. The album was released on 24 March 1972, and reached number two on the UK Albums Chart, as well as being Slade's first album to dent the Billboard 200 in the United States, where it peaked at #158. The album contained original songs, plus cover versions of songs by Ten Years After, The Lovin' Spoonful, Bobby Marchan, and Steppenwolf. Since its release, the album has gained recognition as one of the greatest live albums of all time.

After the success of Slade singles Get Down and Get With It, Coz I Luv You and Look Wot You Dun, Slade set out to capture their live sound on record. After the commercial failures of previous albums Beginnings and Play It Loud, the only income was through the band's solid live reputation. Slade Alive! was recorded at the Command Theatre Studio in London, for a cost of £600, and released without overdubs of any sort in March 1972. A number of lucky fan club members had been present over the course of a three night run. The album consisted of covers of Ten Years After's Hear Me Calling, John Sebastian's Darling Be Home Soon, Little Richard's Get Down and Get With It which became a top 20 hit for the band in mid-1971 and Steppenwolf's Born to Be Wild which had also appeared on the band's debut album Beginnings (1969). The album peaked at #2 in the UK Albums Chart, and remained in that listing for 58 weeks. In Australia, Slade Alive! was the biggest selling album since The Beatles' 1967 album Sgt. Pepper's Lonely Hearts Club Band."

The Deluxe Edition (Vinyl LP):
Upon opening the outer card packaging envelope that this was sent to me in, I was greeted by a very dear old friend of some 45 years – a vinyl copy of the Slade Alive! Album that so brightened up my youth and led me down a path that I happily followed until the very end of Slade in 1991. That vivid red gatefold sleeve, with the great shot of the whole of the band playing live outside and the cartoon and quotes on the inside gatefold. It has to be said that the inner gatefold is blurred, compared to an original copy. this was also the case with the vinyl albums in the 'When Slade rocked the world' box and is a poor bit of attention to detail and a cause for complaint. It shouldn't happen.

At the bottom left of the shrink-wrap is a sticker proclaiming that this is the "45th anniversary edition. Celebrating the album as an art form. A seminal album featuring extensive 6 page 12" booklet exploring: The Times, The Key Players, The Songwriting, The Production, The Impact, The Legacy. Plus Exclusive 12" Sleeve Art Print. 180g Vinyl."

The vinyl album comes in a black paper inner sleeve which, for my own personal preference, I will swap out for one with a softer lining immediately. It bears the BMG logo on a red background label. This is authentic to the look and feel of the original, much-loved Polydor album.

The album sounds just as good as it ever has and should be in every self-respecting rock listener's collection and listened to regularly. It has an enormous, warm sound to it and you feel like you are in the room with the band. Faultless. It is one of very few records that captured exactly what the bad was about - another that spirings to mind was their later live release, Slade on Stage.

The Art Card that accompanies the album is to be found in the left hand pocket of the gatefold sleeve, along with the 6 page booklet. It has the album sleeve on one side and some rather interesting-looking press cuttings and a Marquee gig advert on the rear. Very little of what is on the rear of the art card can be read properly, as it is overlaid by the word SLADE in huge letters. The content is merely there for artistic purposes, though.

Opening the trifold, double-sided booklet / insert, it looks quite impressive. The text throughout is overlaid over interesting photos from the whole of Slade's career up to the 1980's, rather than just concentrating on the two years in which the album was actually recorded and released.

The front page of the booklet features a rough timeline of events in Slade's early career and some dates on it are slightly out.
It has to be said, I don't know why they use him for sleeve notes. He knows little about the band.

Ingham sets the scene for the release of the album in the early 1970's with information about who was big then and what the markets were. He does not seem to think that many bands crossed over as both singles and album artists. He briefly describes Chas Chandler's early admiration of the band, their adoption of the skinhead image for 'Play It Loud', plus their first hit with 'Get down and get with it' and gives some early history up to 1972, accompanied by some quotes from the band themselves.

He then returns to introducing the various band members and gives a pre-history of the band from their first days together up to the three nights in October 1971 when they recorded the Slade Alive! Album. A first mix by Command Studios and the band was rejected by Chas Chandler and Chas went back to remix it. The band got their way, however and their own mix was used.

The various songs on the album are described in some detail and you get Ingham's opinions on each of them and some information on their origins and how Slade rearranged the cover versions to suit them. There is no real song-writing information, or insight, (apart from Jim Lea realising he had to keep the tunes simple) as the band only really wrote two of the seven songs on the album (no matter who 'Keep on rocking' is credited to, Chuck Berry wrote it) and some proper quotes about how those two songs that they did write came together would have been good.

A 1977 shot of the band (from the sleeve of the 'My baby left me' single) takes pride of place under the track-listing of the 1971 album, then a little more band history is given, taking us up to late 1972.

The legacy of the album is that Joey Ramone, plus a host of American acts who later made it and our very own Noel Gallagher all liked it. The listener cannot fail to be impressed by the sheer live power of the band.

The Barry Plummer photographs are not from from the live recording sessions, as the advance blurb promised.
There are, however, some great photos from various other points in their career, though some are from as far away as 1980.
The Deluxe CD edition:
The CD edition comes in a regular-sized CD hardback book form and it really is the most impressive and attractive CD edition of the album that I have seen so far. The 28 page booklet contains a larger number of photographs (from 1970 – 1982) more than the vinyl album insert.

It is a nice re-packaging of a truly fantastic album, sensibly-priced and it really is great value for money.
1. Hear me Calling
2. In Like A Shot From My Gun
3. Darling Be Home Soon
4. Know Who You Are
5. Keep On Rocking
6. Get Down And Get With It
7. Born To Be Wild
---
FEEL THE NOIZE - THE SINGLEZ BOX SET (2018 Europe, 2019 UK)
This box set was originally set for release in 2018, but the UK release was held back until May 31st 2019.
Now it has been put back again to Sptember 6th 2019.
Let's look at the contents:
The video above gives an unboxing view of an advance copy of the set. It is a very nicely packaged product. For the product content, see the second image below. The singles come on red BMG labels and the sleeves are pretty good reproductions of various early European singles, with the exception of the final disc, which is a pairing unique to the promo single sent out to plug the Six Of The Best EP. The 7" single here comes in a cut down replica version of the original 12" single artwork. The label on the BMG single here doesn't mention the intended promo status of the original 7" single.
It's obviously aimed at collectors, who will have a great time listening to these brilliant singles for the first time and will absolutely adore this set. Fans will enjoy having new clean picture sleeve copies of these singles. As a major fan myself, this reviewer has to admit that even I don't have all of these picture sleeves.
Win win. Excellent value for money.
---

SLADE - CUM ON FEEL THE HITZ
BMG 2LP set in Gatefold sleeve 4 050538 608731
BMG 2CD set in trifold sleeve 4 050538 608700
25th September 2020
ALBUM REVIEW

Slade were the biggest UK singles band that walked the Earth in the early 1970's. They effortlessly created number ones and shot them at the top of the charts with the deadly accuracy of a team of expert marksmen. They did it again and again and they seemed to be utterly unstoppable. Performing their legendary live shows at a relentless and ear-shattering pace, they were voted the best live act and top band in so many polls, it is impossible to count them all. Their sales awards must fill their homes and take weeks to polish.

Despite their career being defined in some ways by the creation of a Christmas song that will probably live forever, they were an absolute hit machine, first charting with the raucous Get Down And Get With It and bowing out twenty years later with the equally rock-tastic Radio Wall Of Sound.
They released six number one singles in the UK and, due to a cruel twist of fate as to how the UK charts were compiled over Christmas 1983, were denied their rightful seventh number one which they should have achieved with the majestic My Oh My.

Unbelievably, Slade fans have not had the chance to purchase a brand new vinyl hits collection containing all those supercharged rock anthems since 1991. There have been a few 'best of' collections on CD and Salvo and BMG have carefully curated the entire Slade back catalogue and have put out remastered and expanded reissues of all of their original albums.

There's a palpable feeling of excitement, putting a brand new vinyl Slade hits album onto the turntable after so long. The sight of those four familiar faces on the front of the sleeve tell you what you need to know: A rockin' good time is guaranteed for all.

We'll start off with Side One: Noddy Holder's voice simply hits you RIGHT THERE, straight away, as Get Down And Get With It commences the business of the day. From there, we head through the early glitter-clad stomp and the huge sound of Coz I Luv You, Look Wot You Dun and Take Me Bak 'Ome. The tremendous Mama Weer All Crazee Now and Gudbuy T'Jane round off side one and the impact of hearing those played at a suitable volume… well, you have to EXPERIENCE it.

Side Two doesn't start off mellow, seeing as we are told - in no uncertain terms - to Cum On Feel The Noize. A song that doesn't age, or bear pale imitations, this is the sound of SLADEMANIA at its finest. Skweeze Me Pleeze me still blugeons its way into your psyche the same way it always did, especially with the aid of volume. The cascading guitar introduction and Noddy Holder's razor voice subdue the listener. The eccentric stomping singalong My Friend Stan follows. It too doesn't age. Everyday remains possibly the most sublime and perfect love song that Slade ever released and here it is. The Bangin' Man gets bluesy and Far Far Away (reportedly Noddy Holder's favourite Slade song) takes you back to them sitting by the Mississippi in Memphis, where the song was created mid-tour. Don Powell's hammering introduction on the drums has possibly never been bettered as a staggeringly brilliant piece of drum work.

Side Three starts with the epic How Does it feel, used in the opening scenes of their Flame film. It is again, an almost perfect recording – the sound of a group at the top of their game, whose capabilities and ambitions were ever-expanding. Thanks For The Memory is catchy, funky, loud and daft. You have to love it. In For A Penny – with Dave Hill's utterly astonishing guitar solo - and Let's Call It Quits recall the group's attempts to crack America. If America didn't get it at the time, their loss. The side continues with Slade's invention of BOG ROCK, We'll Bring The House Down, an exhortation to head-bang that was gleefully accepted by the kids at the time. It concludes with the solid, melodic rock of Lock Up Your Daughters and not a single beat is wasted on the whole third side of the album.

Side four – the home straight – My Oh My leads us not into temptation, before Run Runaway has us all losing our cool, dancing around the room (ailments permitting, of course). Gather some breath during the sublime All Join Hands, an absolutely panoramic recording, and be amazed at the absolute wonder that is Myzsterious Mizster Jones. The Boyz hadn't lost it. This is an absolute cracker. DJ Mike Read voices the intro to their final chart hit, Radio Wall Of Sound – one of their very best later recordings and a superb way to sign of such a massive career.

Of course, that's not the end. Slade always had an encore. Tacked on at the end, just waiting to get you, is their Seasonal Epic, Merry Xmas Everybody, which I imagine the entire population of the world will have possibly heard at least once in their lifetime. Not one jingling bell insults your intelligence. Noddy tells it how it is and the song sums up the festive season better than anything else you will ever hear.

It's an absolute joy to be able to put this on a turntable, to crank it up and to educate the neighbours. It's good time rock and roll music that will never die. Ever.

As you may be able to tell, I love it.

CD1: Cum On Feel The Noize / Skweeze Me, Pleeze Me / Mama Weer All Crazee Now / Coz I Luv You / Take Me Bak 'Ome / Gudbuy T'Jane / My Friend Stan / Far Far Away / My Oh My / Everyday / The Bangin' Man / Look Wot You Dun / Thanks For The Memory / Run Runaway / We'll Bring The House Down / In For A Penny / Let's Call It Quits / How Does It Feel / All Join Hands / Get Down And Get With It / Radio Wall Of Sound.
CD2: Lock Up Your Daughters / My Baby Left Me: That's Alright /Gypsy Roadhog /(And Now the Waltz) C'est La Vie / Myzsterious Mizster Jones / Ruby Red / Do You Believe In Miracles / Wheels Ain't Coming Down / 7 Year Bitch / Still The Same / The Shape Of Things To Come / Know Who You Are / Nobody's Fool / Burning In The Heat Of Love / Give Us a Goal / Ginny Ginny / Sign Of The Times / Knuckle Sandwich Nancy / Ooh La La in L.A / That's What Friends Are For / 21. We Won't Give In / 22. Merry Xmas Everybody.

Heavyweight Vinyl 2LP set
A: Get Down And Get With It / Coz I Luv You / Look Wot You Dun / Take Me Bak 'Ome / Mama Weer All Crazee Now / Gudbuy T'Jane.
B: Cum On Feel the Noize / Skweeze Me, Pleeze Me / My Friend Stan / Everyday / The Bangin' Man / Far Far Away.
C: How Does It Feel / Thanks For The Memory / In For A Penny / Let's Call It Quits / We'll Bring The House Down / Lock Up Your Daughters.
D: My Oh My / Run Runaway / All Join Hands / Myzsterious Mizster Jones / Radio Wall Of Sound / Merry Xmas Everybody.
The USA got single-LP and single-CD releases of the Hitz album.
USA SINGLE LP VERSION               BMGCAT464LP     
A: Cum On Feel The Noize / Coz I Luv You / Take Me Bak 'Ome / Mama Weer All Crazee Now / Gudbuy T'Jane / Skweeze Me, Pleeze Me.
B: Run Runaway / My Oh My / Myzsterious Mizster Jones / Little Sheila / Slam The Hammer Down / Ooh La La in L.A.

USA SINGLE CD VERSION               BMGCAT464CD
Cum On Feel The Noize / Coz I Luv You / Take Me Bak 'Ome / Mama Weer All Crazee Now / Gudbuy T'Jane / Skweeze Me, Pleeze Me /
Run Runaway / My Oh My / Myzsterious Mizster Jones / Little Sheila / Slam The Hammer Down / Ooh La La in L.A.
---
2021 SPLATTER VINYL EDITIONS
The four biggest Slade albums, all reissued on eye catching splatter vinyl, as limited edition pressings.
---
2022 Record Store Day limited edition translucent blue vinyl Ballzy LP.
4600 copies were available worldwide. 1500 of those were sold in the UK.
---
May 2022
Mediapack versions of 'The Big Four' on CD.
Following the reissue of Slade's biggest albums on splatter vinyl, the same four albums were re-released with improved mediapack packaging. Good for those new to the catalogue or wishing to upgrade. The Slade Alive! package looks very similar to the 45th anniversary CD. The Slade In Flame CD finally contains a bonus track that was not previously been included on the original vinyl release - a single edit of How Does It Feel.
Slade Alive!: https://slade.lnk.to/aliveFA
Slayed?: https://slade.lnk.to/slayed2022FA
Old New Borrowed And BlueE: https://slade.lnk.to/ONBBFA
Slade in Flame: https://slade.lnk.to/inflameFA
The CD's are due for release in the USA on June 17th.
---
2022
All The World Is A Stage - 5CD LiveBox Set
Slade are proud to present 'All The World Is A Stage'. This one-of-a-kind box set contains three previously unreleased concerts and the mega albums Slade Alive! and Slade On Stage.
September 9th 2022. Order this 5CD Box Set HERE
CD 1: Live At The New Victoria (new audio)
Them Kinda Monkeys Can't Swing
The Bangin' Man
Gudbuy T'Jane
Far Far Away
Thanks For The Memory (Wham Bam Thank You Mam)
How Does It Feel
Just A Little Bit
Everyday
OK Yesterday Was Yesterday
Raining In My Champagne
Let The Good Times Roll
Mama Weer All Crazee Now
CD 2: Live At The Hucknall Miner's Welfare Club (New Audio)
Dizzy Mama
Night Starvation
Take Me Bak 'Ome
Wheels Ain't Coming Down
Lemme Love Into Ya
Everyday
Somethin' Else
Purple Haze
Pistol Packin' Mama
Keep A Rollin'
When I'm Dancin' I Ain't Fightin'
Gudbuy T'Jane
Get Down And Get With It
You'll Never Walk Alone
Mama Weer All Crazee Now
Merry Xmas Everybody
I'm A Rocker
Born To Be Wild
CD 3: Slade Alive!
Hear Me Calling
In Like A Shot From My Gun
Darling Be Home Soon
Know Who You Are
Keep On Rocking
Get Down And Get With It
Born To Be Wild
CD 4: Slade On Stage
Rock 'n' Roll Preacher
When I'm Dancin' I Ain't Fightin'
Take Me Bak 'Ome
Everyday
Lock Up Your Daughters
We'll Bring The House Down
A Night To Remember
Gudbuy T'Jane
Mama Weer All Crazee Now
You'll Never Walk Alone
CD 5: Alive! at Reading (new audio)
Take Me Bak 'Ome
When I'm Dancin' I Ain't Fightin'
Wheels Ain't Coming Down
Somethin' Else Medley
Bass & Violin Medley
You'll Never Walk Alone
Mama Weer All Crazee Now
Get Down And Get With It
Merry Xmas Everybody
Cum On Feel The Noize
Born To Be Wild
Our observations on this box set:
The music is absolutely faultless.

There are a number of things about it that I wouldn't have done.

1 The box front cover illustration ... I would have kept to the original photo colours.
2 I would have put the concert dates on the box cover.

3 I would have put info in the booklet about the actual concerts in the booklet and on the covers, such as the sources. BBC and Radio Trent.

4 The photos would have all been relevant to the actual shows / tours concerned.

5 I would have put the actual concert dates and some info on the disc covers.

6 Slade Alive would have been in a gatefold sleeve.

7 The New Victoria disc would have had correct period images front and rear. The source would have been quoted.

8 The Reading disc would have had correct gig images front and rear. It would not list You'll never walk alone TWICE.

9 The Reading disc would have been as much of the full show as possible, not just the highlights. The source would have been quoted.

10 The Hucknall disc would have had concert photos from that show front and rear.

11 The venue would be named correctly as 'the Hucknall & Linby Miners Welfare Club and the source would have been quoted'.

12 The discs would have had protective paper inner sleeves.
---
2022 Crackers.
A splatter vinyl reissue of their album.
Side A
1. Merry Xmas Everybody
2. Let's Dance
3. Santa Claus Is Coming To Town
4. Hi Ho Silver Lining
5. We'll Bring The House Down
6. Cum On Feel The Noize (Re-Record 1985)
7. All Join Hands
8. Okey Cokey
Side B
1. Do You Believe In Miracles
2. Let's Have A Party
3. Get Down And Get With It (Re-Record 1985)
4. My Oh My
5. Run Runaway
6. Here's to … (The New Year)
7. Do They Know It's Christmas (Feed The World)
8. Auld Lang Syne / You'll Never Walk Alone
Also available as an expanded Deluxe CD:

1. Merry Xmas Everybody
2. Let's Dance
3. Santa Claus Is Coming To Town
4. Hi Ho Silver Lining
5. We'll Bring The House Down
6. Cum On Feel The Noize (Re-Record 1985)
7. All Join Hands
8. Okey Cokey
9. Do You Believe In Miracles?
10. Let's Have A Party
11. Get Down And Get With It (Re-Record 1985)
12. My Oh My
13. Run Runaway
14. Here's to … (The New Year)
15. Do They Know It's Christmas (Feed The World)
16. Auld Lang Syne / You'll Never Walk Alone
17. Let The Good Times Roll / Feel So Fine
18. My Baby Left Me: That's Alright
19. I'm A Rocker
20. Merry Xmas Everybody (Live)
---


2022 Sladest splatter vinyl album
Side A
1. Cum On Feel The Noize
2. Look Wot You Dun
3. Gudbuy T'Jane
4. One Way Hotel
5. Skweeze Me, Pleeze Me
6. Pouk Hill
7. The Shape Of Things To Come
Side B
1. Take Me Bak 'Ome
2. Coz I Luv You
3. Wild Winds Are Blowing
4. Know Who You Are
5. Get Down And Get With It
6. Look At Last Night
7. Mama Weer All Crazee Now
---
---
Merry Xmas Everybody 12" snowflake vinyl EP (November 2022)
Slade were unstoppable throughout the seventies becoming one of Europe's biggest bands, releasing 6 smash hit albums, including three UK No-1's, a run of 17 consecutive Top 20 singles and their hits are synonymous with the glam era

Merry Xmas Everybody hit #1 in the UK singles chart in 1973 and has continued to establish itself as a favourite Christmas song around the world for all. This new 12" single package contains 'Merry Xmas Everybody' alongside 3 other songs taken from Slade's Crackers Party Album.
Side A
1. Merry Xmas Everybody
2. Let's Dance

Side B
3. Okey Cokey
4. Auld Land Syne / You'll Never Walk Alone