November 2022:
The Collected Slade Newsletters have been published in four volumes, covering 1979 to 1981 and 1984 to 1992.
They are available for a limited period via Amazon here.
100% of all proceeds will go to www.kidneyresearchuk.org

See this page for more info.
- - - - - - - - -
Jim Lea has made a promo video for his track 'Am I The Greatest Now'.
The line-up of the group in this video will not be touring.
- - - - - - - - -
Suzan Holder has asked that her author page isn't flooded with messages to Nod. She will not be passing them on.
I assume that she's getting flooded with people trying to get to him via her page. It's the height of bad manners to hijack her page by abusing it in this way and I would hope that real fans are NOT joining in this activity. She's trying to conduct her professional life via this page and it is not fair to take her time up with fending off Slade fans. This page doesn't message Suzan Holder regarding Nod these days, as she is very busy with her own work and life and if they need anything from me or my site then they will get in touch.
As I type, Jim Lea has had two weeks at number one on the heritage chart with The Smile Of Elvis.
Vote for the track at https://www.surveymonkey.co.uk/r/522BLGP
Jim has been filming a new promo video this week. More info soon.
Noddy Holder has been in the studio, putting a spoken word vocal over a Brian Eno ambient track.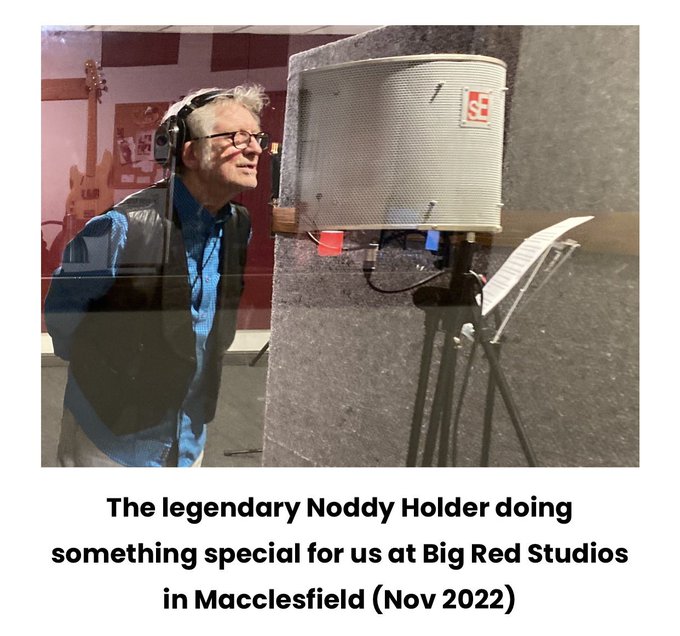 Don Powell is releasing a version of Far Far Away as a download with his band The Dreamers.

September 2022:
HELP US HYPE JIM LEA!

Jim Lea's track The Smile Of Elvis has popped up on the Heritage Chart and is rising week by week. You can help to get it higher.

Vote at https://www.surveymonkey.co.uk/r/522BLGP

Thanks to Chris Selby admin for the Jim Lea Music Facebook page.

A video for the song was filmed at the Wolverhampton Art Gallery by Dave Meehan.
All The World Is A Stage is out now!
Order at https://slade.tmstor.es/

Review by Now Spinning
Sladest is also getting a splatter vinyl and expanded CD reissue.
Order at https://slade.tmstor.es/
August 2022:
30th:
BMG are sticking Crackers out again on Spatter vinyl and an extended 20 track CD to fill up your Christmas stockings.... Order at https://slade.tmstor.es/
The Wolverhampton Art Gallery Don Powell / Jim Lea Q&A event was a success. Fortunately the ridiculous scenes with fan misbehaviour that occurred at The Robin, when Jim did his DVD screening event were avoided. Watch this space for further news regarding the streamed event.
---
July 2022:
NEW SLADE STREAMING SINGLE:
Cum On Feel The Noize (live at Reading)
Available on streaming platforms 29.7.2022.
In September BMG will issue All The World Is A Stage, a new 5CD box set of Slade live albums, including three previously unreleased shows.
The trio of previously unreleased gigs is as follows:

Live At The New Victoria, recorded on April 24 1975, captures the band during the UK tour to promote their feature film, Flame.

Live At The Hucknall Miner's Welfare Club, a full show, recorded in December 1980, features songs from their new studio album at the time, 'We'll Bring The House Down', along with classics 'Take Me Bak 'Ome', 'Gudbuy T'Jane', 'Everyday' and the perennial 'Merry Xmas Everybody'

Alive! At Reading, the third unreleased live set, captures edited highlights from the band's sensational live performance to over 80,000 people in 1980. As last-minute replacements for Ozzy Osbourne, their set was arguably the highlight of the festival and led to Slade enjoying a renaissance in the Eighties. A 3-track EP was issued from this performance at the time.

Completing this box are Slade Alive!, the classic 1972 live album that broke Slade around most of the world, and also Slade On Stage, which documents their 18 December 1981 Newcastle City Hall show (the album was issued a year later in December 1982).

.All The World Is A Stage comes in a clamshell box with a booklet and will be released on 9 September 2022, via BMG.
Pre-order this 5CD Box Set HERE:
-----
We can tell you now...
"FANTASTIC NEWS !! Jim Lea Music is pleased to announce that on Saturday 6th August 2022 both JIM LEA & DON POWELL will be taking part in a Q + A at the Wolverhampton Art Gallery, Lichfield St. Wolverhampton. WV1 1DU.

The event will be held in the Georgian Rooms at 16.00 hrs (4pm). Ticket prices are to be announced.
All proceeds from the event will go to the art gallery as Jim & Don wish to support local arts.
Please post a question on the JIM LEA MUSIC PAGE. There is no guarantee that it will be used.
More details to follow, so keep checking back at Jim Lea Music "

There is no promise of Don and Jim signing items at this event.
The 140 ticket event has sold out.
-----
22.07.2022 - Jim and Don in the same room.
All will be revealed.
No. It is not a band reunion.
---
June 2022:
All The World Is A Stage 5CD set.
Format: 5xCD with 12 page booklet.
Cat: 405053 8811247
Released: 29 Jul 22 by BMG
May 2022:
The latest batch of Slade CD reissues in mediapack format.
May 27 UK and Europe.
June 17 USA / Canada.
Slayed: https://slade.lnk.to/slayed2022FA
Old New: https://slade.lnk.to/ONBBFA
Slade in Flame: https://slade.lnk.to/inflameFA
Slade Alive: https://slade.lnk.to/aliveFA
Slade Books section added to website here.

Don Powell's wife Hanne has passed on the news that Don is recoverying after surgery related to bowel cancer. I am sure you will join in wishing Don the very best for his recovery.

Also, Slade are heavily featured in a new exhibition that has just opened at the Wolverhampton Art Gallery.
More info HERE

---
March 2022:
DAVE HILL 'DAD'S GIBSON' REPLICA GUITAR.
This beautiful minature scale replica can be yours - just go to www.guitarminiatures.co.uk
Quick, before they sell out!!
---
February 2022:
A special release of "Ballzy" will be out for the 15th anniversary of @RSDayUK on April 23rd.
You can get a copy from a participating indie record shop near you exclusively on #RSD22.
Find your nearest store at https://recordstoreday.co.uk/stores/
DON'T PANIC ABOUT GETTING A COPY. 4600 COPIES ARE BEING PRESSED WORLDWIDE.
A confirmed 'brief QSP appearance' will occur at a UK Suzi Quatro London show later in the year. Rest assured, if you do book a ticket for Suzi Quatro at the Royal Albert Hall in April, you will definitely have a cracking night out. Hurry up if you want to go, it's nearly sold out.
'TWO OLD MEN IN A PUB' ALERT.
Nod and Dave occasionally meet up for a drink.
This sets off alarm bells with the more gullible Slade fans who expect a full blown reunion of the band.
The press love it too.
ABSOLUTELY NO GUITARS WERE INVOLVED.
---
January 2022:
There has been a glimmer of excitement off in the dim and dusty corners of the internet. The Sun tabloid 'newspaper' (known for its piercing and instructive, but often - allegedly - mainly made-up coverage of world events) decided to run a story that Noddy Holder was trying to interest the other members of Slade in reuniting to play at Glastonbury.
It has, of course, been confirmed that Noddy Holder never even spoke to The Sun. The hysterics and wetting of trousers and questions about where to get tickets has been amusing to watch. The time for them to do this - if they were ever going to bother - was 1991. Four men who don't like each other that much (in various permutations) will never perform live together again.
Don Powell has released a statement:
"Many of you are aware of a newspaper article that appeared in The Sun just before Christmas in which they wrote that Noddy wanted to reform Slade to perform at the Glastonbury festival. I was surprised to read this and have not been approached by anyone regarding getting the original line up back together. Since then then Nod's management has stated that Nod had not spoken to The Sun. I was totally disappointed that Glastonbury never came off . Of all the UK festivals, Slade have never played that one. It would have been GREAT to have had that one under our belt before the 'Pipe & slippers' came out…
Don"
---